Javaid Ali murder trial: Dead shopkeeper 'sold cannabis'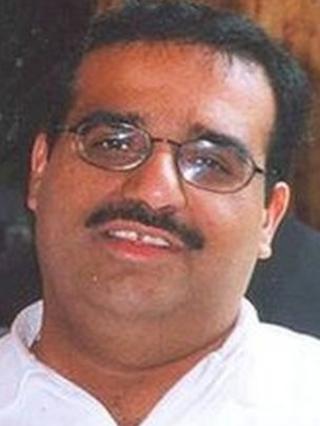 The Javaid Ali murder trial has been told that the shopkeeper was selling cannabis from his van.
The evidence was given by James Angus, 57, who told the High Court in Glasgow that he worked two days a week in Mr Ali's Sunshine Grocers in Paisley.
Earlier, the court heard that a police search of Mr Ali's van uncovered 12 bags of herbal cannabis.
Lee Anderson, 31, denies murdering Mr Ali at Sunshine Grocers in Green Road, Paisley, on 15 June last year.
Mr Angus told the court that he was paid in goods for his part-time work for Mr Ali.
He told the court that Mr Ali offered his customers credit and at the time of his death he was owed thousands of pounds.
Mr Angus also revealed that the shopkeeper was selling cannabis, but added: "He wasn't selling it from the shop but from his van."
The witness told the jury that he refused to have anything to do with the selling of the cannabis and said to Mr Ali that if he sold it in the shop he would quit.
Shopkeeper 'solemn'
He was asked by QC Brian McConnachie, defending, if he had noticed any change in Mr Ali prior to his death and replied: "He was more solemn. He wasn't his usual jolly self."
The QC asked: "How long was this before his death?" and Mr Angus said: "About a couple of months."
Mr McConnachie then said: "He wasn't his usual happy-go-lucky self," and Mr Angus said: "That's right. He just said he had things on his mind."
Mr Angus also said that Mr Ali was spending less time at the shop.
The jury has already heard that Mr Ali was stabbed in neck during an attack at the shop.
This severed his carotid artery and resulted in massive blood loss from which he went into cardiac arrest.
As a result, Mr Ali suffered severe and permanent brain damage and died on 29 June 2012, after his life support was switched off.
Earlier the trial heard from Det Sgt Andrew Gibson, who told prosecutor John Scullion that the shop was forensically examined for five weeks and the search involved 20 police officers and 10 forensic experts.
He added: "We found £664.50 in the floor behind the counter and £409.76 in the till."
Cannabis bags
The court heard that some of the banknotes found near to Mr Ali's body were covered in blood.
Colleague Det Con Kevin Hendry said that he found a further £1,500 of cash in the shop, much of it in coins.
Police also found 12 bags of herbal cannabis in Mr Ali's white van, which was parked outside the shop.
Det Sgt Gibson was asked by solicitor advocate Bob Mitchell: "Mr Ali had drugs near to the shop and he had a large amount of cash on the premises," and he replied: "Yes."
Mr Mitchell then said: "Would you not agree that was a very dangerous thing to do," and Det Sgt Gibson said: "Yes anyone who sells drugs, it is a risky business."
Mr Mitchell added: "The danger is that you might be robbed," and the policeman replied: "That's correct, yes."
The jury was told that Mr Ali was working alone in the shop when he was stabbed and although CCTV in the shop was installed it was not working.
The trial before judge Sean Murphy QC continues.