Javaid Ali murder trial: 'No prints' from accused found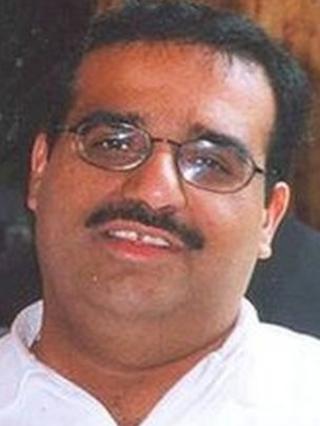 No fingerprints from a man accused of murder were found at the store where he is alleged to have fatally stabbed a shopkeeper, a court has heard.
Lee Anderson, 31, denies killing Javaid Ali, 48, at Sunshine Grocers, Green Road, Paisley, on 15 June last year.
He has lodged special defences of alibi and incrimination, naming five others.
The High Court in Glasgow heard that fingerprints of one of these five men was found on a money box cash tray found near to where Mr Ali was stabbed.
Mr Ali died in hospital on 29 June 2012 without gaining consciousness.
Friendship claim
Scene of crime examiner Anne-Marie McIntosh, 28, told the court on Friday that she and her colleagues examined the interior of the shop for a day and then spent months examining the contents looking for fingerprints.
The jury was told that print impressions were found on the inside wall of the cash tray in a black cash box.
Fingerprint expert Lesley Brown, 40, told the court that the prints matched the forefinger and middle finger of 21-year-old Sean Gibson.
In evidence, Mr Gibson from Paisley, who was a regular customer at Sunshine Grocers, was asked by prosecutor John Scullion: "Did you stab Javaid Ali?
He replied: "No, it's silly. Jav was my friend."
Mr Scullion then asked: "How does it make you feel?" and Mr Gibson said: "Hurt and angry. Jav was my friend. What would I want to stab him for? I got on well with him. I liked him."
Mr Gibson was asked if he had any explanation for his fingerprints being found inside the cash box and replied: "No, I can't remember touching it."
"I got Jav a box similar to that, but it wasn't that one it was smaller. It was also black."
He added: "There are a 101 reasons why my fingerprints are inside the cash box. I didn't stab Javaid. I didn't murder him."
Under cross-examination by defence QC Brian McConnachie, Mr Gibson was asked: "Do you accept that you were disrespectful to Mr Ali and took the mickey out of him?" and he replied: "No."
'Not stealing'
Mr McConnachie then said: "Do you accept that you think of yourself as a bit of a hard man, a gangster, a ned?" and Mr Gibson said: 'No."
The QC said: "There would be no legitimate reason for you to touch this cash box?" and Mr Gibson said: "My fingerprints are on the box, but I don't know, I can't remember. I wasn't stealing from the box."
Mr Gibson claimed he was looking after his baby son on the afternoon that Mr Ali was stabbed.
Earlier in evidence, Kelly McDonald, 28, the partner of Sean Dock - one of the other men incriminated by the accused, denied that she had given him a false alibi for the time Mr Ali was stabbed.
She told defence QC Brian McConnachie: "I know Sean never done it. I know he never committed the crime. He was with me. I'm telling the truth."
Mr Anderson denies all the charges against him.
The trial before temporary judge Sean Murphy continues.