Joseph Townsley jailed for Frank Baxter lorry killing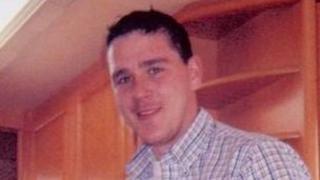 A man who drove a lorry into a North Lanarkshire garden, killing an amateur boxer, has been jailed for seven years.
Joseph Townsley, 63, was convicted of culpable homicide over the death of 23-year-old Frank Baxter in Crindledyke Crescent, Newmains, on 8 May last year.
He originally stood trial for murder but a jury found him guilty of the lesser charge.
Townsley's trial heard that he had gone looking for Mr Baxter, who was the son of his nephew, over a family row.
The trial at the High Court in Livingston heard that the incident was sparked by a family fight earlier that day at M and D's theme park, near Motherwell.
Townsley's daughter Natalie claimed to have been attacked by Mr Baxter, another man called Alex Minto, 31, and their wives Willamina Baxter, 25, and Saphire Foy, 32.
'Peace mission'
After hearing about this, tarmac contractor Townsley travelled to the home of Mr Baxter's parents in Crindledyke Crescent, Newmains, in his lorry.
The court heard that he was followed there by other family members.
Townsley claimed he had gone there on a "peace mission".
He told the court that as he drove towards the Baxter family's house, Mr Baxter and Mr Minto ran towards him and threw missiles at his truck.
He said he ducked down to avoid being injured and lost control of the truck which smashed through the garden gates into the building.
The jury heard from a police crash examiner, however, who said that the lorry appeared to have been under control as there were no signs of braking or swerving.
When the half tonne Ford Iveco truck crashed through the gates of the house Mr Baxter is thought to have fallen backwards and hit his head on a wall.
He was taken to Wishaw General Hospital but died less than an hour later after his brain swelled due to a skull fracture.
The court heard that following the incident, Townsley gathered his wife and children and "went away", before contacting his solicitor.
At his trial, he was convicted of assault, culpable homicide and of attempting to defeat the ends of justice.
Jailing him at the High Court in Edinburgh, judge Lady Wise, said: "Whatever your motivation that night in going to the estate where your nephew Matthew Baxter and his family lived, the outcome of your actions has been devastating for many people.
"You have left Frank Baxter's wife widowed, his children without a father, his parents without their much loved son and his extended family bereft of their relationship with him."
Lady Wise added: "Of course, the loss is in a sense your loss also, as Mr Baxter was part of your extended family.
"That simply serves to enhance the considerable grief that this case has caused."