Tiree's perfect wind and waves attract surf competition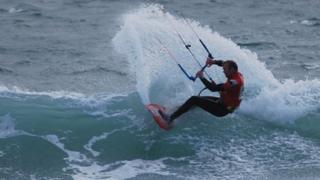 Tiree is hosting British Kite Sport's Wavemasters event, attracting two dozen of the world's top competitors.
The sport involves using an inflatable kite to power a board through the surf, with points scored for the longest and most difficult rides.
Organisers say conditions in the inner Hebridean island make it the "perfect" place to stage the competition.
Local businesses hope it will lead to Tiree holding world class kite surfing events in future.
Richard Gowers from the sport's national governing body, the British Kite Sports Association, said that he had first visited Tiree twenty years ago as a windsurfer, and always intended to take the competition there.
"It was always on the map. It was just a question of which year. Now was a really good time to come," he said.
And, Helen Thompson from Tiree Kitesurf Academy told BBC radio's "Good Morning Scotland" programme she hoped that staging the event would raise the island's profile.
"Hopefully we would be able to hold a world tour event here in the next few years", she said.
"It's just seeing, logistically, is it possible. Which I think, from the amount of people that have come to this event, it clearly is."
'Consistency of conditions'
She says Tiree's weather makes it attractive to wind and kite surfers.
"We just have such a great consistency of conditions.
"Tiree has got this amazing history of being a wild, windy place where we get low pressure storm systems blowing through.
"And it's such a beautiful island to come to that it just attracts so many people."
Mr Gowers explained "to be a champion you need consistency, length of ride, the size of the wave, how close they are to the breaking section, and how radical they are."
The competition started in Balephuil Bay at the south-west end of Tiree, but will use various beaches around the island depending on weather conditions through the week.
The Wavemasters event is in its eighth year, and was staged at Fraserburgh in 2009.
Kitesurfing - also known as kiteboarding - became popular in the early 1990s, initially in Hawaii and Florida.