New study links Old Firm games to domestic abuse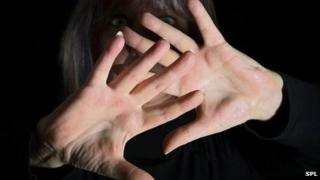 Researchers at St Andrews University claim to have found "firm evidence" of a link between domestic violence and games between Rangers and Celtic.
The St Andrews team looked at data following all 21 Glasgow derby matches between 2008 and 2011.
If found a "significant" rise in cases of physical, sexual and emotional abuse in the 24-hour period after kick off.
Police and support groups have previously reported a sharp rise in incidents when the fixture is played.
The St Andrews team said official figures showed a year-on-year increase in incidents of domestic abuse between 2002 and 2003 (35,877) and 2011 and 2012 (59,847).
It said the majority of these incidents occurred in the former Strathclyde Police area, with the majority of victims being female.
'Crude comparisons'
Dr Damien Williams, a lecturer in public health sciences, who led the St Andrews University study, said that previous media reports of a link between Rangers v Celtic games and domestic abuse were "based on crude comparisons of limited data sets".
The team looked at the number of reports of domestic violence incidents to Strathclyde Police following a fixture.
Reports were based on any form of abuse against a partner, or ex-partner, in the home or elsewhere.
They then compared the figures with those reported for the same 24-hour period seven days after the match and also 24-hours after high-profile Scotland international games played in Glasgow.
The latter was deemed likely to involve similar amounts of alcohol and "expression of masculine identity".
Dr Williams said: "We found a statistically significant increase in the average number of reports following Old Firm matches, compared with other periods.
"Our preliminary analysis confirms previous speculation concerning the association between Old Firm matches and reports of domestic violence."
Dr Williams said further study was needed to "interpret and understand the complex association between sport and domestic violence".
He added: "Our approach may underestimate the true impact of Old Firm matches on domestic violence, as not all incidents are reported to the police, but it nonetheless offers a conservative estimate of the severity of the problem.
"We hope that our work will not only inform preventive interventions to tackle the association between Old Firm football matches and domestic violence, but will add to the literature advocating for prevention efforts to address sport-related domestic violence more generally."
The St Andrews study - Association Between Old Firm Football Matches and Reported Domestic (Violence) Incidents in Strathclyde, Scotland - is published online by Sage Open.