Lee Anderson jailed for 15 years for killing Javaid Ali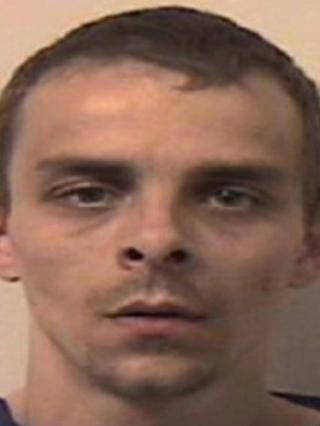 A man has been jailed for 15 years after being found guilty of killing Paisley shopkeeper Javaid Ali.
Lee Anderson, 31, denied fatally stabbing the 48-year-old at Sunshine Grocers in Green Road on 15 June 2012.
Mr Ali suffered brain damage caused by massive blood loss and died in hospital on 29 June 2012.
Anderson, from Paisley, was charged with murder but a jury at the High Court in Glasgow found him guilty of the lesser charge of culpable homicide.
The trial heard how Mr Ali was a hard-working friendly man who knew all his customers.
Jurors also heard from witnesses that he sold cannabis from his van outside the shop.
Artery cut
The prosecution said that in June last year Mr Ali was alone in the shop when Anderson walked in wearing a hoodie.
He waited until other customers left before trying to steal alcohol from the shelves.
When he was caught by Mr Ali, Anderson lashed out with the knife he carried for his protection.
The blade cut through Mr Ali's carotid artery causing massive blood loss.
Despite this Mr Ali managed to call 999 from his mobile. He gave the operator his name, address and said he had been stabbed in the neck.
The one thing he did not reveal was the name of his killer because he did not know Anderson who - despite living in sight of the store - was not a customer.
The prosecution said that after stabbing Mr Ali, Anderson left the store leaving his victim to die.
He then cashed in a PSP device and game for money at a shop in Paisley High Street so that he could buy heroin.
Mr Ali was found fatally injured in his shop by customers who tried to stem the flow of blood from his neck and called for an ambulance and the police.
The massive loss of blood caused irreparable brain damage and Mr Ali died in hospital on 29 June last year.
Anderson pleaded not guilty to murder and lodged special defences of alibi and incrimination, naming five other men.
His trial heard that there was no DNA evidence linking him to the scene.
Jurors heard from witness David Howie, 18, who pointed out Anderson in court as being in the shop before Mr Ali was stabbed.
When asked how certain he was that Anderson was in the shop, Mr Howie said it was "with a great deal of uncertainty".
Guilt confession
The trial also heard from PC Sandra Ewing, 41, who said Anderson had attended a police incident caravan and said local rumours were circulating that a teenager was responsible for Mr Ali's death.
She admitted later failing to identify Anderson at a police line-up but said that was a mistake and Anderson was the man at the incident caravan.
The jury also heard that Anderson confessed his guilt to his mother and one of his brothers.
Anderson told his mother Margaret and brother Paul: "I stabbed the shopkeeper."
They were so concerned about this confession that they went to the police.
Anderson's mother also emailed the BBC's Crimewatch programme after an appeal to find Mr Ali's killer was broadcast.
In evidence both tried to claim that they thought Anderson was joking and said they never suspected him.
But the jury did not believe that and convicted him of the culpable homicide of Mr Ali.
Following Anderson's conviction, Det Ch Insp Duncan Sloan, of Police Scotland, said: "It is hard to imagine what Mr Ali's family have had to endure since his untimely death and I would like to take this opportunity to thank them for all the assistance they gave us during the investigation.
"They were extremely co-operative with police during every step of our investigation and I am grateful for the support they gave us.
"I sincerely hope that today's verdict can go some way to help them to rebuild their lives."