Apology as IT problems affect patients in Glasgow health board area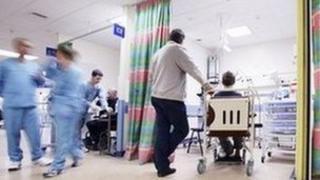 Scotland's largest health board has made an "unreserved apology" over an IT problem which is continuing to affect services for a second day.
NHS Greater Glasgow and Clyde said it had only restored "a basic level of IT service to enable some of the clinical services affected to resume normally".
It confirmed that over the past 36 hours, some 590 patients have had their treatment or appointments postponed.
The problem has affected up to 10 hospitals across the health board area.
The issue, which arose after a server crash and a subsequent failure in the back-up system, left clinicians unable to access services such as patient records.
It resulted in outpatient appointments, inpatient procedures, day surgery cases and chemotherapy appointments being postponed.
Maternity and emergency services have been maintained throughout.
It is hoped the problems will be resolved by Wednesday evening.
NHS Greater Glasgow and Clyde (GGC) chief executive Robert Calderwood said: "I apologise unreservedly for the inconvenience this has caused to our patients who have had their procedures postponed, and I will ensure that everything possible is done to get their treatment carried out at the earliest possible opportunity.
"I can assure everyone that our senior management team, IT specialists and clinical leads have been working around the clock and will continue to do so until this issue is resolved."
Mr Calderwood said that the "vast majority" of hospital services had been maintained and more than 7,400 planned procedures and appointments had gone ahead during the IT systems crash.
He said: "Those which have had to be postponed were as a result of clinical decisions taken because the treatment or consultation was reliant on detailed imaging and other patient information which was unavailable as a result of the network issue.
"Arrangements have also been made to maintain the vast majority of chemotherapy sessions today (Wednesday), although a small number of sessions have regrettably been postponed.
"The unprecedented IT issue relates to our network and the way staff can connect to some of our clinical and administrative systems."
NHS GGC said further work would be carried out during Wednesday afternoon to ensure that the partial fixes put in place were "sustainable" and that "full IT functionality is restored".
The health board confirmed that by late morning on Wednesday, it had postponed some 485 outpatient appointments.
It said that 14 planned inpatient procedures were also postponed, along with 43 day cases and 48 chemotherapy patient treatments.
NHS GGC said earlier that emergency operations and community services had not been compromised by the ongoing problem.
Answering questions on the problem in parliament, Scottish Health Secretary Alex Neil said the two software server companies - Microsoft and Charteris - were working to determine the cause of the problem.
He said no data appeared to have been lost, adding: "My officials will work closely with the board to establish the root cause of this incident and to share the lessons with other NHS boards."
Mr Neil said the NHS was contacting patients to ensure their treatments and appointments were rescheduled as soon as possible.
Following Mr Neil's answer, Scottish Labour's health spokesman Neil Findlay said: "We need an independent review of all of IT systems across our health boards so that patients are spared these delays and make clear what contingency plans are in place so we can have confidence in our patient booking system in future."
Scottish Conservative health spokesman Jackson Carlaw said: "We now need to confirm the cause of this problem urgently, and advise all other health boards in Scotland on how it can be avoided in future."
Jim Hume, health spokesman for the Scottish Liberal Democrats, added: "It is for the health secretary to get a grip of this and ensure we do not see this repeated at any health board in Scotland."
Jeff Hawkins told BBC Radio Scotland's Newsdrive programme that he was travelling to a consultant's appointment at Glasgow's Southern General Hospital on Wednesday when he was told it was cancelled.
He said this was not the first time that IT problems had resulted in an appointment being rescheduled.
'Brilliant staff'
"I've had one appointment where I turned up at the time it said on the letter and was told I was a non-attender because the computer said 11:30 and I turned up at 12:00," he said.
Mr Hawkins said the letter telling him about another appointment had arrived the day after the appointment.
Mr Hawkins described the medical staff that he had dealt with during various hospital visits as "fabulous, caring, knowledgeable and brilliant".
But he added: "The administrative back up is just appalling. It's like yesterday's world."
Reacting on Twitter, John Greer, from Glasgow, said he had waited six months for an appointment on Tuesday, only for it to be cancelled.
He added: "The place was in utter chaos can't believe there is no back-up."
However, Annemarie Monaghan, from Bearsden, said: "Hospital appointment at 9am - despite no IT system was seen on time, good consultation, future treatment organised. No problem. Well done NHS."