Glasgow health board IT crash cost 'not fully assessed'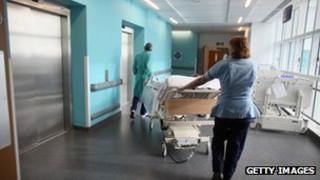 Scotland's largest health board has yet to fully assess the financial cost of a two-day IT systems crash which saw 709 appointments and procedures cancelled.
NHS Greater Glasgow and Clyde (GGC) said it would be premature to speculate what caused the problem while diagnostic checks were continuing.
The crash meant that 599 outpatient appointments were postponed along with 62 planned inpatient procedures and day cases and 48 chemotherapy treatments.
The system was restored on Thursday.
Problems with the health board's computer system were identified on Tuesday following the local September holiday weekend.
'Unreserved apology'
Despite round-the-clock efforts from NHS GGC's own IT teams, with input from suppliers at Microsoft and Charteris, the issue was not resolved until Thursday.
The delay and widespread nature of the problems saw NHS GGC chief executive Robert Calderwood issue an "unreserved apology" to patients who had appointments and treatments at 11 hospitals postponed.
In the aftermath of the crash, BBC Scotland asked the health board how much the problem was likely to cost, who would pay and the likelihood of any legal action.
In reply, a spokeswoman for NHS GGC said: "Our IT teams and our external experts are running full diagnostic checks to try and understand exactly what caused the problem in the first place and until a cause it identified it would be premature to speculate on what element of the system was responsible.
"The focus to date has been on resolving the issue and getting our systems back online and as such the cost implications have yet to be fully assessed.
"The input by our main IT suppliers is covered under existing contractual arrangements."