Murdered Mumtaz Sattar's family name suspect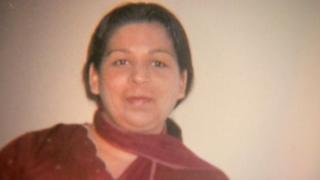 The family of a woman from Inverclyde who was murdered in Pakistan have petitioned officials there, naming a single suspect.
Mumtaz Sattar, 38, from Port Glasgow, died after receiving a serious head injury while she was on a trip to the Punjab with her husband last month.
Her family have asked the High Court in Lahore to review the police handling of the case.
Mrs Sattar's husband Abdul, 40, is currently in police custody.
He told officers he and his wife were drugged and attacked by two men during a taxi ride on the way from the airport to see his parents on Saturday 21 September.
He said they were thrown out of a moving car and that his wife died from the serious head injuries she suffered.
Now Mrs Sattar's family are petitioning the High Court in Lahore asking serious questions about the police investigation.
The family's lawyer Aamer Anwar told BBC Scotland: "A serious allegation has been made of bribery of police officers that are involved in the case.
"At each and every turn the family appears to have been obstructed, as a result of which advocates lodged a petition at the High Court in Lahore yesterday in which they name one murder suspect and ask for the authorities to bring the police officers concerned to the High Court to answer questions."
In shock
Mrs Sattar's family are seeking help from politicians in Scotland and Pakistan.
Her brothers and sisters, who are caring for their two young nieces, aged 10 and 13, said they would continue to fight for justice.
Mrs Sattar's brother, Sarfraz Ali, said: "It's having a devastating toll on everybody, especially her children.
"But we are trying our best and hopefully we can bring this matter to a close as soon as possible with the help obviously of the authorities in Pakistan."
At Mr Sattar's shop in Port Glasgow, his brother Abdul Ghufar said his family was in shock over the murder but did not want to comment further.
Scottish Police are helping Pakistani authorities with their investigation.