Mohammad Sarwar pledge over Mumtaz Sattar murder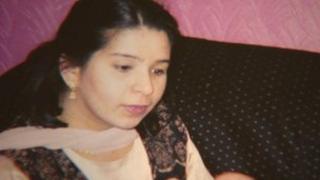 The new governor of the Punjab, Mohammad Sarwar, has told the family of an Inverclyde woman that he will do everything possible to have her killers brought to justice.
Mumtaz Sattar, 38, from Port Glasgow, was murdered just hours after arriving in Pakistan last month.
Her relatives have petitioned the High Court in Lahore, naming a suspect.
Her brother Sarfraz Ali and family solicitor Aamer Anwar met Mr Sarwar in Glasgow on Saturday.
Mr Sarwar, who became Britain's first Muslim MP in 1997 when he won the Glasgow Govan seat, renounced his British citizenship in August ahead of his inauguration as governor of Pakistan's most populous province.
Speaking after the meeting, he told BBC Scotland he had been in contact with the Punjab police almost every day since Mrs Sattar's murder, and had told them he wanted the case investigated by senior officers.
He added: "I want to assure the family and the people of Scotland that justice will be done.
"Senior police officials are doing the investigations on the case and I have confidence in our police force in Punjab and the legal system that they will do their best to make sure that the person who has committed this heinous crime is brought to justice."
Mr Anwar said the meeting with Mr Sarwar had been "extremely valuable".
He added: "Mr Sarwar arranged a conference call with senior police officers and formal requests have now been made for the police to co-operate with Police Scotland and with ourselves in order that this murder inquiry can be solved.
"He has been able to cut through the bureaucracy. He has also put the spotlight on this case and said that every pressure must be brought to bear in order to bring the killers of Mumtaz Sattar to justice."
Mrs Sattar's husband Abdul, 40, is in police custody.
He told officers he and his wife were drugged and attacked by two men during a taxi ride on the way from the airport to see his parents in Punjab on Saturday 21 September.
He said they were thrown out of a moving car and that his wife died from the head injuries she suffered.
Scottish Police are helping Pakistani authorities with their investigation.
On Friday, Mr Anwar told BBC Scotland Mrs Sattar's relatives had serious concerns about the Pakistani police investigation into Mrs Sattar's death.
He said: "A serious allegation has been made of bribery of police officers that are involved in the case.
"At each and every turn the family appears to have been obstructed, as a result of which advocates lodged a petition at the High Court in Lahore yesterday in which they name one murder suspect and ask for the authorities to bring the police officers concerned to the High Court to answer questions."