Mumtaz Sattar murder: Husband Abdul is prime suspect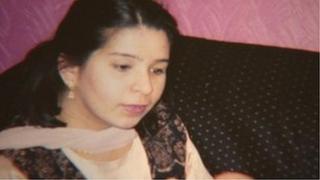 A man from Port Glasgow whose wife was murdered in Pakistan has been named by police as their prime suspect.
Mumtaz Sattar, 38, was killed in the country's Punjab province hours after arriving last month with husband Abdul.
The 40-year-old told police that they had been attacked during a taxi ride to see his parents. Mrs Sattar later died and was buried in Shahkot.
Police in Pakistan now suspect Mr Sattar may be responsible and have detained him in custody.
Mr Sattar told officers he and his wife were drugged and attacked by two men during a taxi ride on the way from the airport to see his parents in Punjab on Saturday 21 September.
He said they were thrown out of a moving car and that his wife died from the head injuries she suffered.
Scottish Police are helping Pakistani authorities with their investigation.