Glasgay festival marks 20 years of celebrating gay culture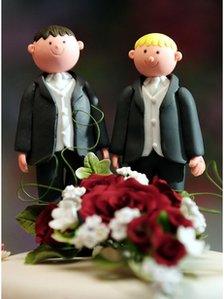 The Glasgay festival, which was one of the first celebrations of gay culture, is celebrating its 20th anniversary.
It has become one of the biggest of its kind in the UK, despite almost failing in year one when councillors tried to stop its funding.
Festival director Steven Thomson said even though equality had moved out into society, the event was still important.
"There's still many stories from the past and and still many stories of future to tell," he said.
He added: "We commission with an intention to look at social issues. Our work is dominated by social issues.
"There are still many of our community who struggle to come out, who struggle with family issues, who struggle with mental health, and just struggle with their whole identity."
Back in 1993, councillors at Glasgow City Council wanted to block the festival under Section 28 legislation, which prevented the promotion of gay culture.
Performers hit back. Sir Ian Mckellen said at the time: "It is their values that are rotten to the core, and Glasgay is a beacon of sanity in a hypocritical and naughty world."
Festival founders including Cordelia Ditton decided it was important to press ahead despite the opposition from the local authority.
"I mean it was: 'We don't want that here'," she said.
"And yet there was so much going on under the surface. There were so many people ready to do something like this.
"And remember it was only two or three years after the Section 28 legislation had been passed, so there was a real feeling amongst the gay community that it was time to act."
Section 28 was abolished by the Scottish Parliament in 2000, and since then and Equality Act and a Civil partnership Act have been introduced.
Glasgow City Council is now one of the festival's key sponsors.
Poet and playwright Jackie Kay, whose play Twilight Shift was among the productions in the festival's first year, has returned to the festival this year with The Maw Broon Monologues.
She said festivals like Glasgay had been the catalyst for change.
"I think it's completely culture that's changed attitudes," she said.
"I think that when politics changes, culture will have been there first."
She said creative people, from poets to visual artists, were always one step ahead.
She added: "But that's the way it should be.
"You should always have cultural voices that question the status quo."
Related Internet Links
The BBC is not responsible for the content of external sites.