Mumtaz Sattar murder: Husband Abdul formally arrested in Pakistan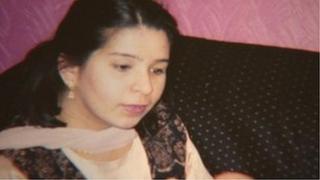 A man from Port Glasgow has been formally arrested in Pakistan along with three other men in connection with the murder of his wife.
Abdul Sattar's wife Mumtaz was killed in Pakistan on 21 September.
Mr Sattar, 40, claimed the couple were drugged, attacked and thrown out of a taxi shortly after arriving in Lahore.
They had been on their way to see his parents in Punjab. Mrs Sattar later died and was buried in Shahkot.
Her husband has been detained in custody by police.
The announcement was made at a media conference in Glasgow held by relatives of Mrs Sattar and the family's lawyer, Aamer Anwar.
Security perimeter
Mr Anwar said: "I can advise that Abdul Sattar has now been formally arrested and is presently in custody.
"I was advised by the investigating officer yesterday evening that all of Mumtaz Sattar's property, including her jewellery, as well as Mr Sattar's credit cards, passport and £3,500, were recovered yesterday. Included in the items was Mumtaz's diary."
Mr Anwar said police in Pakistan had found a white car which Mr Sattar had said was a taxi used to transport him and his wife from outside the security perimeter of the airport in Lahore.
The police had confirmed the vehicle was not a taxi, Mr Anwar said. He added that Mr Sattar had been seen on CCTV greeting males from the white car.
He added: "Three other suspects in the murder have also been formally arrested. These men, who were on the run following the recovery of the white car on Sunday, are allegedly linked to the white car and to Abdul Sattar."
Mr Anwar said he expected all four accused men to appear in court on Saturday, with bail likely to be opposed by the police.
Scottish police have been helping the Pakistani authorities with their investigation.
Last weekend the governor of the Punjab region, former Glasgow MP Mohammad Sarwar, assured Mrs Sattar's relatives that "justice will be done".