Rwandan village of Jari renamed after Dumbarton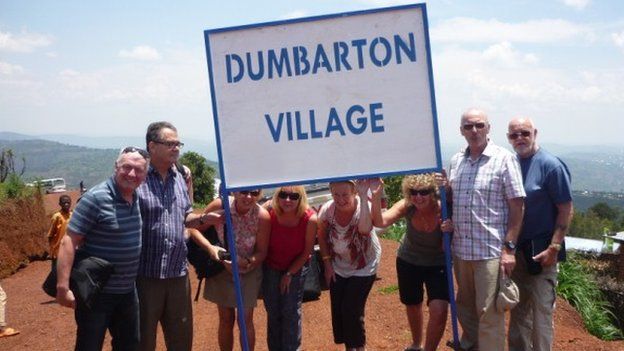 A village in Rwanda has been renamed Dumbarton in honour of Scots church-goers who have raised funds to help people affected by the 1994 genocide.
Members of Dumbarton's Rock Community Church have raised about £30,000 for a variety of projects in Jari.
Rwandan officials mooted a name change as a sign of gratitude and Dumbarton was chosen in agreement with villagers.
The 1994 Rwanda genocide was a mass slaughter of mainly Tutsis by Hutus, which saw some 800,000 killed.
The atrocity grew out of long-standing ethnic tensions between the two groups.
Since 2008, members of the Rock Community Church have been engaged in helping the 150-strong Jari community, which includes survivors of the genocide.
As well as supplying sewing machines to enable villagers to work, the congregation has also helped with agricultural supplies.
In 2010, church members purchased a plot of land for £1,000 to build a number of homes for widows and genocide survivors.
So far, three have been built with work on a fourth now under way.
The homes are fitted with solar panels and allow villagers to make modest amounts of cash from selling electricity - mostly to family and friends who use it to recharge mobile phones.
One of the founders of the Rock Community Church, Billy McClung, said the ongoing commitment to the Jari community had led to the process of it being renamed Dumbarton.
"Following discussions with the local government administrator, he decided that we should be able to name the local area in recognition of the fact that we have already provided housing for three families and have committed ourselves to building a fourth house for another family," he said.
"He stated that he has recognised both the financial and emotional commitment that Rock Community Church has evidenced over the past five years.
"We decided to call it Dumbarton Village in recognition of our home town of Dumbarton where Rock Community Church is based."
Mr McClung said the renaming had strengthened the links between the two communities.
Related Internet Links
The BBC is not responsible for the content of external sites.