Robert Owen Centre at Glasgow University aims to narrow education gap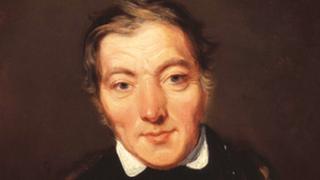 A new Scottish research centre aimed at breaking the link between poverty and poor educational achievement is to be formally launched.
The Robert Owen Centre for Educational Change will be based at Glasgow University.
It will work with academics and policymakers from across the world to research and develop policies to improve young people's life chances.
The centre will be officially opened by Education Secretary Michael Russell.
Speaking beforehand, Mr Russell said the think tank would be a "major asset" to Scotland.
It comes six years after the Organisation for Economic Cooperation and Development (OECD) raised concerns about an achievement gap in Scotland.
It said the gap began to open around the primary five age group and widened during the first four years of secondary school.
Children from "poorer communities and low socio-economic status homes" are "more likely than others to under-achieve", the OECD report stated.
Prof Christopher Chapman, director of the Robert Owen Centre, said its launch was "a significant milestone, not just in terms of Scotland but it should be seen as a major step forward in international thinking and best practice".
He said: "Now more than ever is a critical time for education policy. We need to develop new, collaborative ways of working within and between schools that will allow us to share and develop ideas and best practice.
"But this cannot be done in isolation. Schools must be linked to a whole range of other agencies and the Robert Owen Centre will encourage dialogue and a rethinking of roles, relationships and responsibilities within the system.
"It is no longer acceptable to allow divisions between the classroom, town hall, university office or an other body that perpetuates the problems of the past.
"The Robert Owen Centre for Educational Change will contribute greatly to the new ideas that are needed to make this vision a reality in Scottish education."
'Attainment gap'
The centre has been named after 19th century social reformer Robert Owen, who attempted to create a model community in the cotton mills and village of New Lanark.
Under Owen's management from 1800 to 1825, New Lanark had the first infant school in the world, a creche for working mothers, free medical care, and a comprehensive education system for children, including evening classes for adults.
Children under 10 were not allowed to work in the mill.
The launch of the new centre comes 200 years since the publication of one of Owen's key works, A New View Of Society.
Mr Russell said: "In this landmark year for Robert Owen, a year when we are celebrating the bicentenary of his A New View Of Society, I am pleased that we will have a centre, here at the University of Glasgow, devoted to our understanding of how to improve the life chances of our young people, which are fundamental issues Owen was wholly committed to.
"As we seek to address the attainment gap in Scotland's education system this new centre will become a major asset, not just to this university but to Scotland.
"Owen's legacy will surely be alive in this hub as it looks globally to draw in the best thinking, the best practice and the best people working in educational change."