Svitzer Marine fined £1.7m over Flying Phantom tug deaths in River Clyde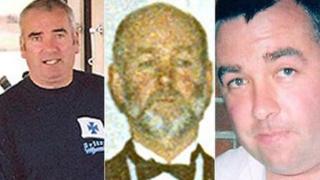 The owner of a tug boat which sank in the River Clyde killing three crew members has been fined £1.7m.
Stephen Humphreys, 33, Eric Blackley, 57, and Robert Cameron, 65, died when the Flying Phantom capsized in thick fog opposite Clydebank College in West Dunbartonshire on 19 December 2007.
Tug owner Svitzer Marine Ltd pleaded guilty to health and safety failures.
It admitted failing to put in place a safe operating procedure after a previous grounding in December 2000.
In passing sentence at the High Court in Edinburgh, judge Lord Turnbull said that a larger fine would have been imposed had the company not pleaded guilty.
The judge said: "In identifying the particular level of fine I consider appropriate in the present case I am not seeking to identify the level of the worth of the individuals who lost their lives."
"Nor am I seeking to reflect in financial terms the measure of the loss suffered by their families.
"In the end of the day any sentence imposed by me will likely seem insignificant compared to the sentence which they have had imposed on them."
Lord Turnbull said victims' families will have to face an entirely different future from the ones they had looked forward to spending with husbands, fathers and grandfathers.
The court had heard how the Greenock-based Flying Phantom had been towing the 77,000-ton Red Jasmine cargo ship when the capsize occurred.
Difficulties were encountered due to heavy fog on the River Clyde.
Crewman Brian Aitchison, 37, from Coldingham, was rescued from the water after he managed to escape from the tug's wheelhouse.
Winch failure
The bodies of skipper Mr Humphreys, from Greenock in Inverclyde, along with Mr Cameron, from Houston in Renfrewshire, and Mr Blackley, from Gourock, Inverclyde, were later recovered.
The tug itself was raised in a salvage operation the following month.
In the aftermath of the tragedy, an inquiry by the Marine Accident Investigation Branch (MAIB) concluded that the tug boat's towing winch had not released quickly enough, which meant it was capsized by the vessel it was pulling.
The report also highlighted failings in procedure to ensure the tug operated safely in foggy weather.
It also emerged the tug suffered £150,000 of damage in a collision with a vessel in similar circumstances in 2000.
Danish firm Svitzer Marine and Clydeport were prosecuted under the Health and Safety at Work Act 1974.
Svitzer admitted "failing to ensure, as far as reasonably practicable, the health, safety and welfare at work" of the crew.
The company's QC said that what happened was an "appalling tragedy" and that Svitzer's remorse was "deep and genuine".
Clydeport denies the charges and legal proceedings are due to start later this year.
The Crown Office said no decision would be taken on holding a Fatal Accident Inquiry (FAI) until criminal proceedings were concluded.
'Great sadness'
Commenting on the sentence, Stephen Humphrey's wife Helen said: "I welcome the fact that sentence has been passed on Svitzer Marine Limited today and recognise that the company have admitted their guilt.
"It is a cause of great distress to my family that Clydeport continue to plead not guilty which means more lengthy legal procedures which we have to endure."
Andrew Henderson, from Thompsons Solicitors, which acted for the families, criticised the fact that no FAI had yet been held.
"Although the conclusion of criminal action against Switzer is welcome, it is extremely worrying that almost six years on from the tragic deaths of three men in the course of their employment there has been no fatal accident inquiry held into those deaths," he said.
"How can lessons be learned and similar tragedies prevented without such an investigation taking place in court?"
All three men who lost their lives were members of the Unite union.
Pat Rafferty, Scottish secretary for Unite, said: "It is a scandal in itself that the victims' families have had to endure a wait of six long years for this decision to be reached but it's even more galling that no individual will be held responsible for Svitzer's negligence."
He said it was also alarming that the judge could not "legally enforce changes to working practices that could prevent future fatalities" and called for the FAI process to be "radically changed".