Amsterdam disorder: Five Celtic fans to appeal convictions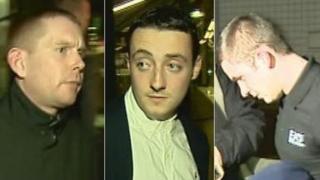 Five Celtic fans who were found guilty of using violence against Dutch police before the club's game against Ajax are to appeal against their convictions.
Their lawyer Christian Visser confirmed the move, but said it may take up to 18 months for the appeals to be heard.
Damian Dobbin, Thomas Kennedy, Jozef Macpherson, Padraig Mullan and Andy Vance were all handed jail terms.
All five were released immediately pending an appeal. John Quigley, 49, was acquitted due to lack of evidence.
The men were arrested amid fighting between police and fans in the city's Dam Square before Celtic's Champions League match against Ajax on 6 November.
Jail terms
During the disorder, police made 44 arrests. Of the 28 Celtic supporters held, 22 were freed - 10 without charge and 12 after paying fines of as much as 500 euros (£420).
Of the six remaining Celtic supporters in court, two had been held in custody since they were arrested and the four others were released pending Thursday's hearing at Amsterdam District Court.
At the end of the proceedings, Padraig Mullan, 28, and Damian Dobbin, 23, were jailed for two months, Thomas Kennedy, 30, and Andy Vance, 21, for six weeks and Jozef Macpherson, 20, for a month.
All five were released pending an appeal and are now believed to be travelling home.
Mr Visser said he was disappointed by the judge's ruling.
"It was very uncommon because it was a speed trial and the case was not really applicable for a speed trial, so it was very odd because it took eight hours - so it wasn't much of a speed trial.
"I'm disappointed by the court's outcome, that's for sure, because even if the judge thought that he couldn't say the guys were not guilty then he should have ruled that there was more investigation needed.
"But he rejected that and said, more or less, that an investigation would come in an appeal."
Damages awarded
Mr Visser said he would be appealing over the verdict but that the cases could take a long time to come back to court.
He said: "We are going to appeal and then we have another two weeks to ask for witnesses. Then they will be agreed on by the court and then we have to hear all these witnesses. Then by the time we are back in court for the final hearing, it could easily be a year."
The court also awarded damages of between €250 and €500 to four injured officers.
The judge said police had used force in dealing with the disorder, but it had not been excessive.
He said the men should have left Dam Square when trouble erupted, but instead they reacted by using violence.
During the hearing, the fans on trial said they believed they were being attacked by hooligans when they were arrested by undercover police officers.
One told the court the police acted in a heavy-handed way.
'Number of questions'
Dobbin said six or seven police came from nowhere and used "terrible" violence.
He said he believed he was fighting for his life.
Dutch Police said eight undercover officers were injured during violent clashes in the city centre.
Some of the disorder was said by police to have been sparked by Dutch fans getting hold of a flag which Celtic supporters had.
A spokesman for Celtic said: "Celtic has always said it does not condone any form of violent or offensive behaviour. If any person connected to Celtic FC is identified as being involved in such behaviour, then clearly we would always take the appropriate action.
"As we have also stressed before, it is very clear that events in Amsterdam have raised a number of questions. Separately, therefore, the Club can confirm that it is continuing to work on behalf of our supporters with our Dutch legal representative in relation to supporters' complaints.
"We have received numerous written complaints from fans regarding their treatment in Amsterdam and the lawyer we have engaged is currently reviewing these in order to assess whether they can be taken further through the legal system in Holland.
"We believe these to be credible complaints, with substance, and therefore deserve further investigation.