Hopkins apologise over 'badly-timed' Scottish joke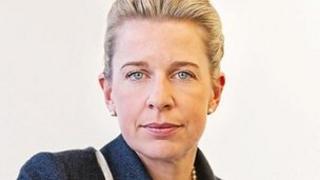 The Apprentice star and Sun columnist Katie Hopkins has apologised after making a joke about Scots just hours after the Glasgow helicopter crash.
She had tweeted: "Life expectancy in Scotland based 07/08 birth is 59.5. Goodness me. That lot will do anything to avoid working until retirement."
Thousands of people signed a petition calling for her to be banned from TV, and protest Facebook pages were set up.
Ms Hopkins apologised and said it had been "bad timing".
In a later tweet, she said her comments had referred to a government article on health.
The Clutha pub had been packed with more than 100 people when a police helicopter crashed into it at 22:25 on Friday, killing nine people.