Glasgow 2014: 200 days to go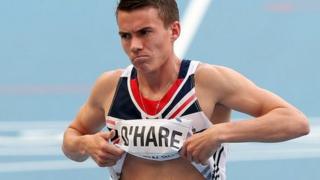 It is exactly 200 days until the opening ceremony of the Commonwealth Games in Glasgow.
With many of the 13 venues already in use and 94% of tickets sold, organisers say it is time to focus on the detail so that the 20th Games is a spectacular one.
It will be the largest sporting event that Scotland has ever hosted, and at a cost of around £470m there is a lot riding on its success.
In seven months time, athletes from the 70 nations and territories of the Commonwealth will take part in the Parade of Nations at Celtic Park before the Queen reads her hand written message from the Commonwealth Baton and declares the Games have begun.
The last time Scotland hosted a Games, in Edinburgh in 1986, the home nation collected 33 medals. In Melbourne in 2006, Team Scotland's tally of golds was 11, while Scottish athletes collected nine golds four years later in Delhi.
The man in charge of our athletes this time, Chef de Mission Jon Doig, said he was "quietly confident" Scotland will have strong prospects across all 17 sports.
He told BBC Scotland's Sport Nation: "We've had some fantastic performances over the last year with athletes responding to the lure of the Commonwealth Games coming up.
"The bowlers have got a point to prove - the last Games is the first time ever they came back without a medal
"Sports like Judo, back in the Games for the first time since 2002. They really delivered for us in Manchester so we're looking at these sports to come through".
Chris O'Hare, a 1500m runner from West Linton, has already been selected for Team Scotland.
While welcoming his early selection, he said it can also add some pressure.
He explained: "Now you know you've been selected, everybody else knows, so around the small village where I'm from everybody's saying 'we've tried to get tickets' or 'we've got tickets and we'll be there' so it adds a bit of pressure to make sure I'm on point and I can make the country proud".
For others, the selection process will come later in the year, but it is hoped that Team Scotland will eventually have around 250 competitors.
Free events
Meanwhile, for those in charge of organising the event, it is time to make sure things run smoothly.
Ty Spears, Glasgow 2014's Deputy Chief Executive, said: "We'll do some refinement on our transport planning, that's really critical.
"We'll be doing some work to make sure the Athlete's Village is perfect for the athletes, the detailed work that we need to do to make sure that everything is really special for all of our spectators and the athletes from around the world that we need to entertain here in Glasgow in 200 short days."
Over the 11 days between 23 July and 4 August, the Commonwealth Games is expected to be watched or listened to by 1.5 billion people across the world.
A million spectators will be in the 13 venues to watch the sporting competition, with many more joining in for the free events.
For Glasgow City Council, which is paying 20% of the costs, and the Scottish government, which is funding 80%, the hope is to create a return much larger than the half a billion pounds of investment.
That will come in business and tourism opportunities, regeneration projects and, perhaps the most difficult of all, a legacy of participation.