Major canal projects in Glasgow and Falkirk get £950,000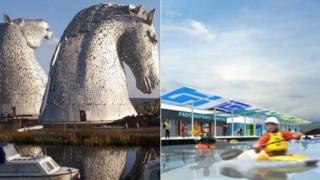 An extra £950,000 has been awarded to put the finishing touches to two major canal projects in central Scotland.
Funding of £500,000 will go towards the building of a £1.2m visitor centre at the Kelpies canal hub near Falkirk - part of the wider £43m Helix project to redevelop 350 hectares of land.
A further £450,000 will fund surfacing, landscaping and decking work at the Pinkston Watersports Centre in Glasgow.
The Scottish government funding will be delivered through Scottish Canals.
Transport Minister Keith Brown said the cash would enable Scottish Canals - which manages the country's inland waterways - to continue its regeneration work.
'Historic significance'
"Scotland's canals are of historic significance and are an asset we place great value on," he said.
"Excellent progress has been made over the past decade in revitalising the network and we are now keen to deliver a wider public benefit and this funding will allow continued progress."
The Helix project aims to transform a 350-hectare site between Grangemouth and Falkirk.
As part of the vision, the Kelpies sculptures - two 30m-high steel horse heads - were commissioned from Glasgow artist Andy Scott.
They have been installed beside the Forth and Clyde canal and will be the major attraction at The Kelpies hub, which is due to open in the spring.
'Jobs and income'
Pinkston Watersports Centre, at the Pinkston Basin of the Forth and Clyde Canal, at Port Dundas, in Glasgow, will offer a competition-standard white-water course, canoe polo pitches and a boathouse.
The £2.3m water sports centre, which is also due to open in the spring, is part of wider moves to regenerate the north of the city.
Steve Dunlop, chief executive of Scottish Canals, said: "By offering competition-grade facilities and coaching just a mile from Glasgow city centre and less than an hour's drive away for over three million Scots, Pinkston Watersports will bring jobs and income to north Glasgow.
"Pinkston Watersports will be a unique force for change in Scotland - an urban sports hub that fosters community involvement and regeneration alongside the development of sporting excellence."