Faslane naval base workers vote to strike over pay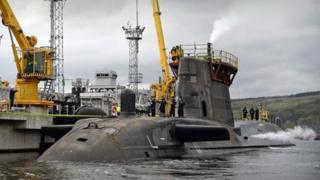 Workers at the Faslane Naval base on the Clyde have voted to take strike action in a dispute over pay.
Members of the Unite union, who are employed at the nuclear base by Babcock Marine, overwhelmingly voted for action over a below-inflation pay offer of 1%.
The dispute involves staff at Faslane and the nearby Coulport Naval base.
Faslane is home to the UK's fleet of Trident nuclear submarines. Unite said strike action would have a "significant" impact.
It would likely involve submarine maintenance teams and workers who monitor radiation levels.
More than 95% of Unite members backed strikes on an 82% turnout.
The union will now consider the ballot result and hold mass meetings before deciding whether to name strike dates.
Skilled workforce
Unite national officer Ian Waddell said: "Workers on the Clyde deserve better than the below inflation pay cut Babcock wants to impose on them and this overwhelming mandate for strike action is a reflection of their anger.
"This is a conscientious, highly skilled collective that understands the unique challenges of their working environment and have consistently worked with the employer down the years to help deliver sustainability for both Babcock and the Ministry of Defence (MoD) on the Clyde.
"It is shameful that Babcock is trying to hide behind the MoD and say its hands are tied by the contractual arrangements, forcing a pay cut which is not only derisory but patently unfair in comparison with the consolidated above-inflation deals settled at Devonport and Rosyth.
"Put simply, we cannot accept regressive public sector pay policy being imposed on private sector workers and Babcock Marine should stand up for the loyal workforce."
A spokesman for Babcock said: "Discussions on pay negotiations are a matter for Babcock and our employees and we continue to try to find a way forward."
An MoD spokesman said: "The MoD is committed to the safe, secure and effective running of HMNB (Her Majesty's Naval Base) Clyde and has robust contingency measures in place."