Two historic baths clubs in Glasgow given A-list status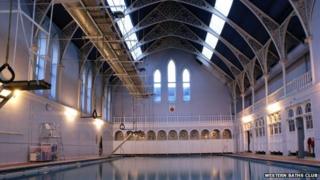 Two of the country's most historic baths have been awarded A-list status by Historic Scotland.
The Arlington Baths Club and Western Baths Club - both in Glasgow - date back to the 1870s - and were previously B-listed for their historic importance.
Both clubs said the upgrade to A-status was a ringing endorsement of their attempts to preserve the past and appeal to members in the present.
The clubs are owned and run by members on a not-for-profit basis.
The previous B-listing for the baths meant they were classified as buildings of regional importance.
'Special character'
The upgrade means they are now viewed as being of national or international importance.
Elizabeth McCrone, Historic Scotland's head of listing, said: "Both Arlington and Western Baths Clubs are outstanding examples of 19th century swimming pool architecture and they have retained their special character while continuing to delight their members today.
"In changing their category of listing from B to A we are recognising their significance as buildings of national importance and they tell us much about the development of private swimming baths during this period."
Arlington Baths Club, in Arlington Street, Woodlands, near Charing Cross, was founded in 1870 and opened in 1871.
Originally designed by John Burnett, it is the oldest members-owned and run baths club in the world.
The club, like the Western, features trapeze rings above the swimming pool.
It was given B-listed status in May 1986 and underwent a National Lottery funded refurbishment in 2000.
'Built to last'
Gordon McDougall, chairman of the Arlington Baths Club, said: "Those of us who are involved with the Arlington now and in the past have always seen our role as custodians of something very special which has an important place in Glasgow's wonderful heritage.
"The Victorians built things to last with admirable attention to quality and detail and that is why we will be launching a major fundraising campaign to ensure that the club is fit for the 21st century."
The Western Baths Club, in Cranworth Street, Hillhead, was established in 1876.
Designed by architects Clarke and Bell, it is considered one of the finest examples of Glasgow's Victorian heritage.
The Western was given B-listed status in December 1970.
Fraser Makeham, general manager of The Western Baths Club, said: "Our members are understandably delighted that a building so admired by them and by others should receive such an accolade.
"We are very much aware of the need to preserve and cherish such an iconic venue as the Western Baths Club.
"It is held in great affection by many of us and the new status is a ringing endorsement of our efforts to look after it now and in the future."