South Ayrshire Council 'failing over historic problems'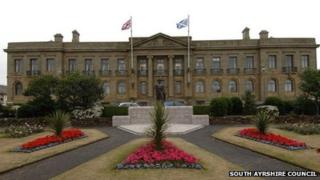 A council has been severely criticised for not tackling major failings that were highlighted five years ago by Scotland's public spending watchdog.
A report by the Accounts Commission said South Ayrshire Council had not met recommendations from previous highly critical reports in 2009 and 2010.
It said the authority still had "significant failings in leadership, performance management and scrutiny".
The council has promised to make "sustained and obvious improvement".
A 2009 report into the council warned that the authority faced serious financial risks after years of poor planning.
'Limited' improvements
It found "limited" moves had been made to address weaknesses and future improvements could be hampered by a lack of funds.
Another report by the Accounts Commission in 2010 said the council needed to make improvements to address a projected three-year funding shortfall of about £56m.
Following that report, Bill McIntosh, leader of South Ayrshire Council, said: "Our improvement journey is well under way and we will continue to concentrate on how we can build on this."
The latest report from the Accounts Commission, however, has said that previously flagged concerns have not been met.
The report "found significant failings in strategic direction, leadership, performance management and scrutiny at the council".
The Commission said it was seriously concerned about the council's inability over a number of years to fulfil and sustain its statutory Best Value responsibilities for continuous improvement in these areas.
It highlighted the fact that the council has lacked a corporate plan for the last 18 months.
The Commission said: "Without a plan, there is no clear statement of the council's priorities for services and improvement. Nor is there clear information about how it will address significant national issues, such as health and social care integration, in the context of other priorities and challenges."
The audit report said that overall scrutiny at South Ayrshire was ineffective.
Scrutiny panel meetings were often cancelled due to lack of business.
A performance management system had been introduced but lacked consistent implementation across the council.
Missed meetings
Senior managers frequently did not attend meetings of the corporate management team or did not engage effectively with its procedures.
There were recent signs that the council was aware of the issues and was beginning to address them.
But the report said improvement should have been established much earlier.
The commission recognised that there were currently no significant concerns about the performance of council services.
Commission chair Douglas Sinclair said, however, that major improvements at the council were needed "as a matter of urgency".
"Otherwise, the weaknesses identified by the targeted audit of best value will increasingly have a negative impact on the services that the council provides for people and communities in South Ayrshire and on the public's confidence in the council," he said.
"The challenges the council faces in establishing and sustaining effective leadership and improvement are substantial and deep-rooted and we urge the council to seek external assistance in this through, for example, peer support."
The commission has ordered a follow-up report by December this year to measure progress against its recommendations.
In his latest response to a highly-critical report, Mr McIntosh said: "The commission's findings and the audit report are not a pleasant read - and neither should they be if there are issues we need to address.
"We will do what's needed - it's as simple as that - and I'm very clear on what's required, and expected, from both councillors and officers across the council.
"I'm confident we have the people and processes in place to address the commission's concerns and, by working together, we will deliver sustained and obvious improvement that genuinely makes a difference."
Mr McIntosh said the "building blocks" to achieve improvements were "mostly in place".
He said a review of scrutiny arrangements was underway and performance reporting mechanisms were being tightened up.
A council plan is to be considered by councillors on 6 March and the authority is creating a "dedicated improvement team" to drive forward changes.
Mr McIntosh added: "We obviously have a challenging road to navigate. But, with the work already underway and the additional steps we're putting in place, I'm certain we can fully embed a culture of improvement and come out stronger on the other side."
Chief executive Eileen Howat added: "We know the improvement work that needs to be done - in fact a lot of it is already going on.
"I am determined this will be progressed in an effective and efficient way to ensure it delivers the right outcomes for the council and the people we serve."