Michelle Mone's lingerie firm loses Scott Kilday tribunal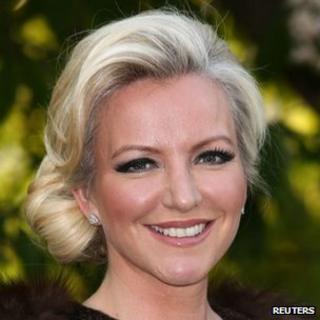 A director who left Michelle Mone's lingerie firm MJM International after discovering his office had been bugged has won his case for unfair dismissal.
Scott Kilday, 35, walked out when he found a listening device in his office.
An employment tribunal heard the bug was installed over concerns about Mr Kilday's loyalty and that Ms Mone had listened to recordings.
The tribunal said these actions had damaged Mr Kilday's trust and it awarded him £15,920 in compensation.
Mr Kilday's former employers said they were "delighted" to have won what they said was the main aspect of the case, concerning shares worth £25,000.
Ultimo Brands International said it was in discussion with its lawyers about a possible appeal over the unfair dismissal finding.
In written findings, the tribunal panel said MJM could have "legitimately taken steps" to "protect its business interests" if it had concerns about Mr Kilday.
Employment judge Shona MacLean continued: "The fact... that a recording device was placed in his office was, in the tribunal's view, conduct likely to destroy or seriously damage the degree of trust and confidence an employee is entitled to have in his employer."
She said that, by hiding the bug, Mr Kilday could "not be expected to put up with it".
Mr Kilday was operations director at MJM.
Marriage split
The tribunal was previously told how matters became "difficult" with the lingerie firm after Ms Mone, the businesswoman behind bra company Ultimo, split with her husband and business partner Michael in December 2011.
Mr Mone eventually left MJM days after another firm - MAS Holdings - bought into the business in February last year.
Mr Kilday, of Glasgow, said that around that time Ms Mone asked him to resign as a director.
He said he was "not particularly pleased" and "sought legal advice".
Mr Kilday also said Ms Mone had been "a very difficult person to work with" and that his relationship with her had latterly been "tense".
He then set up talks with Eliaz Poleg, chairman of MJM. But just days before the meeting, Mr Kilday found a listening bug in his office.
Recalling the find, he said: "It was by chance more than anything else. We actually had a tanning product at the time and just in front of the plant pot I had samples of this product.
"They were sitting there not in a particularly tidy state. This day when I looked over they were in a tidy state - I found this very unusual.
"I went over, had a look in the pot and [I've] seen a cable coming out, which was wrapped around artificial flowers."
'Strategic reasons'
Asked by his lawyer John MacMillan what his reaction was, Mr Kilday told the tribunal he was "horrified" and left the company.
The hearing was told the device had been hidden for "business strategic reasons" and had been authorised by Mr Poleg.
Mr Poleg gave evidence and said he made the move because of "extreme concerns" over Mr Kilday's loyalty to the lingerie firm.
Mr Poleg told the tribunal: "I know there was stuff on it because Michelle said she was listening and replacing the tape machines.
"Michelle listened to these machines. Michelle advised me two separate times she heard Scott speaking about leaving the company.
"She said she heard him speaking to Michael Mone. She heard him saying, 'I'm going to leave the company shortly'."
It emerged during the hearing that Mr Kilday now works for Mr Mone's firm Pendulum Apparel.
MJM contested the unfair dismissal claim.
A statement issued by Ultimo Brands International said: "We are delighted to have won the main aspect of this case relating to the shares of £25,000.
"With regards to the secondary case, we are in discussions with our lawyers and insurers to review our options to appeal."