South Lanarkshire Council indicates Cosla departure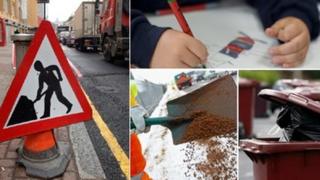 A fifth Scottish council has indicated that it plans to leave the local government organisation Cosla.
South Lanarkshire Council said it plans to give the organisation notice it may leave in 2015.
It is the third Labour council in the west of Scotland to say it may go in as many weeks. There is speculation Glasgow City Council may follow.
Cosla is the local authority umbrella group and represents the collective interests of the country's 32 councils.
However, a complicated dispute over where power lies within the organisation threatens to divide it.
One year's notice
The dispute arose over whether the formula used to distribute Scottish government cash to councils should be changed.
Aberdeen, Dumfries and Galloway, Renfrewshire and Inverclyde councils have already said they may leave the organisation in April 2015.
They are obliged to give one year's notice but may withdraw this at any time.
Some Labour councillors feel Cosla has been unable to effectively fight for their interests against Scottish government policies they disagree with.
Other councils fear possible changes to Cosla's internal structures could weaken their influence.
Labour leads 16 councils in Scotland but power within Cosla is more subtly divided.
If a council leaves Cosla, the move has no implications for local services or the council tax.
Some fear, however, that if Cosla splits it could eventually undermine the power of local government in Scotland or lead to a widening divergence in pay and conditions for council staff.