Film and TV shoots bring just under £20m to Glasgow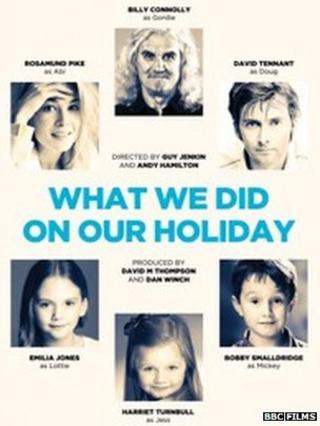 Film and television productions brought just under £20m to Glasgow's economy last year, according to new figures.
Glasgow Film Office said it received 343 location inquiries, resulting in 231 productions being shot during 2013.
This was worth £19.74m - just below the £20.15m in 2011, when major films starring Brad Pitt, Halle Berry and Scarlett Johansson shot in the city.
What We Did On Our Holiday, starring David Tennant, Rosamund Pike and Billy Connolly, was 2013's biggest shoot.
Bailie Liz Cameron, Glasgow City Council's executive member for jobs and the economy, said: "2013 was yet another successful year for the film and broadcast industry in Glasgow.
"The economic importance of the sector has been clear for some time, with almost £250m having come to the city over the past 15 years.
"These figures once again illustrate the value of the work of our Glasgow Film Office."
Of the 231 productions shot in the city during 2013, 38% were TV projects, 7% films, 12% commercials, 5% short films and 38% miscellaneous projects such as corporate videos to stills shoots.