Jennifer Louise Dyer given ban over animal neglect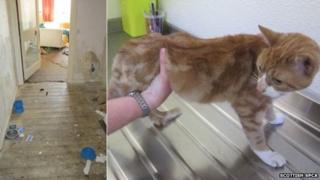 A North Lanarkshire woman who admitted neglecting her six pets has been banned from keeping animals for 10 years.
Jennifer Louise Dyer, 26, kept her four cats and two dogs in "appalling" conditions at her home on Cumbernauld.
At Airdrie Sheriff Court, she pleaded guilty to failing to provide necessary veterinary attention and adequate nutrition for the animals.
Dyer was was also sentenced to 200 hours of community service and given a two year supervision order.
Her neglect of the animals was discovered during a visit to her home by the Scottish SPCA.
The animal charity's Inspector Sarah Gregory said: "When I arrived at Dyer's property the smell of urine and faeces was very strong and I could see that all the cats were thin and suffering from fleas.
'Appalling state'
"Dyer had been keeping her dogs together in a small cage which was an unacceptable size for two dogs. They would not have been able to lie down and would have struggled to stand up or turn around.
"There was nothing to eat within the property for the cats or dogs and when I brought in food for the cats they all ate greedily."
Ms Gregory said she advised Dyer of her responsibilities to ensure the welfare of the animals but this was not acted upon.
She added: "I then returned to the property, which was in an appalling state by this time. There were piles of faeces in all rooms and still no food for the animals.
"The four cats were in very poor condition and we removed them from the property so they could receive the veterinary attention they urgently needed.
"Dyer's dogs were also taken into our care to ensure their welfare. Thankfully, all four cats made a full recovery in our care and have since been re-homed to loving families and we will now find her dogs a new home."