Two men guilty of torture murder of Scott Blackwood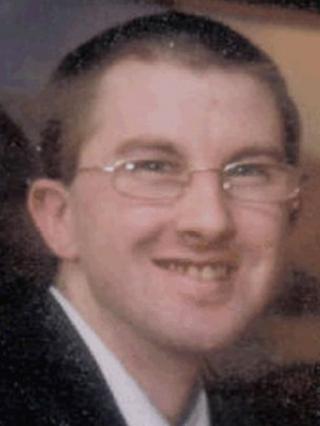 Two people have been jailed for life for the torture and murder of a vulnerable man in North Ayrshire.
Scott Blackwood, 30, was stabbed, beaten, strangled and tied to a bath before an attempt was made to set him on fire at a flat in Saltcoats.
Allan Nicol, 36, and Thomas Moore, 26, were convicted of the murder in July last year and each ordered to serve 20 years before being eligible for parole.
Georgina Smith, 22, was found guilty of the lesser charge of culpable homicide.
She will be sentenced at a later date.
All three were convicted following a five-week trial at the High Court in Glasgow
'Horrific attack'
Judge Lord McEwan told them: "This was a scandalous, disgraceful and horrific attack on a young man including what amounted to torture."
Nicol, Moore and Smith showed no emotion as they were led away to the cells.
During the trial, witness Sean Sinclair, 21, told the court how he went to Nicol's home on 3 July last year and discovered an already badly beaten Mr Blackwood.
He said Moore stood over Scott armed with a metal pole covered in blood.
In a police interview, he went on: "Tommy hit Scott with the barbell. Alan started laying into Scott on the side of the legs.
"Georgie was shouting, 'Finish him, finish him'. Georgie just kept egging Tommy on."
The killers eventually dragged a dying Mr Blackwood to his own home because Nicol was "panicking" about the blood in his home.
Once there, the brutal assault continued as Smith hit the victim while Nicol held him up.
Sinclair added in the interview: "Scott could not stand, so he could have already been dead."
The witness recalled Scott falling downstairs and Nicol claiming he "deserved" it.
Mr Blackwood was then hauled back upstairs before being tied to a bath and his ankles bound together with a dog lead.
In the interview, Mr Sinclair told police: "Georgie then got a bottle of turps and when she came back, she poured it all over him.
"She tried to set him on fire using a lighter - but I stopped her because it was not happening."
Multiple injuries
The jury heard Moore again yelled that Mr Blackwood "deserved it" and that Smith "was agreeing".
Moore claimed he would take the rap as Smith was pregnant - despite the fact she was not.
The court heard that Mr Blackwood suffered 72 separate injuries, including scalds and chemical burns.
In a police interview, Smith claimed the murder was sparked by Moore hitting Mr Blackwood on the nose with a metal bar.
She said: "I could hear the sound of bone crunching and Allan was shouting at Scott: 'Lick your blood'."
"Scott was shaking and crying. Tommy poured a bottle of turps over him and Allan stamped on his face. Part of his ear was bitten off."
She said Scott was then dragged from Nicol's house to his own home after Nicol said: "I don't want him dying in here."
The court heard how Mr Blackwood was again attacked and left lying on his back.
His killers went back to Nicol's house and washed their bloodstained clothes in a bid to escape detection.
Pathologist Dr Julie McAdam said the head injuries found on Mr Blackwood were usually encountered in car crash victims or people who had fallen from a great height.
She said: "Mr Blackwood was the victim of a sustained attack using blunt force and sharp instruments, so he would have attempted to defend himself.
"The injuries to his hands and arms are very much defensive injuries."