A83 diversion road closes again overnight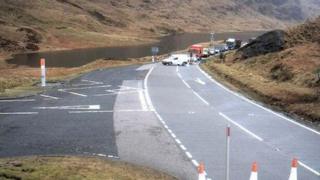 The diversion road for the closed A83 route in Argyll will again shut overnight, Bear Scotland has said.
Landslip debris forced the closure of the A83 at the Rest And Be Thankful in the early hours of Thursday.
The alternative route using the Old Military Road will close between 18:00 on Friday and 07:00 on Saturday.
Bear Scotland said the decision was taken due to a large amount of loose material which could not be monitored overnight.
The installation of a new debris fence on the A83 has not prevented the road being closed by landslips.
Despite the new fence, slurry seeped on to the carriageway early on Thursday morning, closing the road between the B828 and the A814 Arrochar turn off at the Rest and Be Thankful car park.
Thursday's closure marked the fourth time the road has been shut in the past six months.
'Loose material'
Bear Scotland confirmed that a detailed survey on the site had been condicted by a geotechnical engineer and subcontractor.
The survey found that there was still an amount of loose material on the slope, which cannot be monitored in darkness.
Due to this uncertainty, a joint decision was made by Bear Scotland and Traffic Scotland to both the A83 and Old Military diversion overnight.
The diversion route was expected to be reopened on Saturday morning.
Access remains open to the A815 / Cowal from Inveraray and local access continues to be maintained to Arrochar, Succoth and Cairndow.
A helicopter will be used on Saturday to try and make the land more secure before a further safety inspection is carried out.
Motorists will face a diversion of almost 60 miles via the A82, A85 and A819 until the Old Military Road is able to reopen.