'Mortal Kombat' drug boy seriously ill after Coatbridge party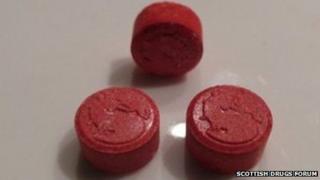 A teenage boy is in intensive care after taking what may have been a Mortal Kombat ecstasy pill, police say.
The 16-year-old is said to be in a serious but stable condition after falling ill at a house party in Coatbridge, North Lanarkshire, on Saturday.
Another 17-year-old boy was also treated in hospital and later released.
Warnings about the red pills were issued following the death of 17-year-old Regane MacColl last month.
The two teenage boys were treated at Monklands District General Hospital in Airdrie on Saturday night.
Det Ch Insp Paul Livingstone said: "We are continuing to work with our partner agencies, including health officials and medical staff, in connection with this investigation.
"At this time our priority is to ensure that everyone who was at the house party is safe and well and officers are carrying out extensive inquiries to trace everyone involved.
"Further to previous warnings, I would again strongly advise people to avoid illicit drugs as their exact content is unknown and can contain dangerous chemicals.
"Users must be aware of these dangers and understand the devastating effect they can have."
An NHS Lanarkshire spokeswoman said: "Anyone who has taken ecstasy - particularly the one described as Mortal Kombat - and who is feeling unwell, or who knows someone who has taken this type of drug in the past few hours, should attend or contact their local hospital for treatment and advice."