Mhairi Convy and Laura Stewart road deaths driver 'just sorry'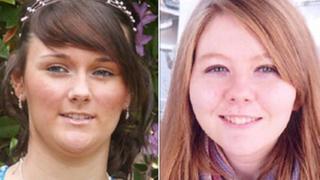 A man whose car mounted a pavement hitting and killing two students told police he was "just sorry", a fatal accident inquiry (FAI) has heard.
Mhairi Convy, 18, and Laura Stewart, 20 were killed after William Payne's Range Rover collided with them on North Hanover Street in Glasgow in December 2010.
The FAI heard a recording of Mr Payne's police interview after the crash.
The 53-year-old told officers: "I thought I was fit to drive."
He also said that he had been suffering blackouts since 2007 but that doctors told him it was a viral infection.
He said his doctors had never told him there was a possibility of collapsing at the wheel.
Mr Payne said the last thing he remembered was sitting at the traffic lights and then someone talking to him in his car after the accident.
'Viral infection'
The fatal accident inquiry at Glasgow Sheriff Court heard that Mr Payne held an HGV licence as well as an ordinary licence.
Mr Payne was asked about why he had not said that he had suffered any blackouts before.
He said: "They kept telling me it was a viral infection."
In his interview Mr Payne revealed that he had had a pacemaker fitted.
Mr Payne was asked why he had not informed DVLA or his insurance company about the blackouts.
He said his doctors had given him antibiotics to clear up the infection.
The inquiry heard that for two and half years Mr Payne complained about feeling unwell with persistent sore throats and feeling tired.
He said he had had eight or nine blackouts but said that there was no warning of them.
He was asked if he was worried about them recurring or spoke to doctors about it and said: "No, I wasn't, I thought these are the people that know."
Mr Payne told police that after the incident when he got out of hospital that he surrendered his licence.
'No trigger'
Dr John Leitch, a consultant at the Southern General and Western Infirmary and a specialist in epilepsy said he had spoken to Mr Payne five days after he was admitted to hospital, following the accident.
Dr Leitch said: "He had two further episodes of blackouts in hospital.
"One on the day of admission and one at the tilt table test."
The consultant said that according to Mr Payne there was no trigger to the blackouts.
He was asked by Dorothy Bain QC, representing the families of the two dead students: "Would you advise patients to contact DVLA if they suffer blackouts?"
And he replied: "Yes. Had he reported this number, more than one, I would have recommended that."
Dr Leitch added that if he had concerns about safety he would inform DVLA himself in such a case.
Mr Payne was charged with dangerous driving following the crash but the charge was subsequently dropped.
The inquiry before sheriff Andrew Norman continues.