Nursery abuser Alexander Mortimer 'groomed parents'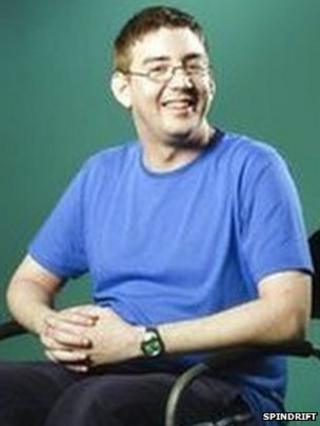 A review into the case of a Lanarkshire nursery worker who abused boys has said more robust procedures are needed to detect offenders who seek to "groom parents" to get to their children.
Alexander Mortimer, 30, was jailed for more than five years in 2012 for filming himself abusing two young boys and taking indecent photographs.
The review said he tried to be friends with parents to get to their children.
It also said some nursery colleagues' concerns about him were not acted upon.
Mortimer was originally jailed for eight years but this was reduced to five years and 11 months on appeal.
The court heard how he filmed and photographed the abuse he carried out on two young boys, and was found to have 17,967 indecent images and 582 videos on his computer.
Some of the images were categorised as "level five", which are considered the most depraved.
When his home in Rutherglen, South Lanarkshire, was searched by police, Mortimer claimed he had been researching child abuse for a college course.
He later admitted molesting the boys, who were aged between two and three at the time, and taking indecent photos of them.
He also pleaded guilty to possessing indecent photos of children and downloading the indecent material.
'Most disturbing'
Following his conviction, a Significant Case Review was carried out by South Lanarkshire Child Protection Committee.
The review concluded: "One of the most disturbing aspects of this case was the way in which the perpetrator seems to have set about building up his ability to access children over several years through his career path and the way he created opportunity to abuse children by befriending parents he met through his work.
"He groomed parents in order to get to children.
"As the review brings out, this has implications for recruitment on to training courses and into employment for child protection training, for the alertness of management to the possibility that this could happen and for all involved to be receptive to any concerns raised by parents or colleagues."
The review also noted that "several colleagues had raised concerns with internal managers" about some of Mortimer's behaviour which "had not been in line with nursery protocols".
It noted: "But these had not been passed on to or further discussed with external managers."
It is understood that the behaviour referred to related to Mortimer's "unkempt" appearance and a perception of him being "lazy", rather than any concerns that he posed a threat to children.
CPC chairman Norman Dunning said, however, that if elements of Mortimer's behaviour had been acted upon sooner, he may have been put off from attempting his abusive activities.
"In this case, the perpetrator clearly broke rules in the nursery, and even though it couldn't be predicted from that, that he would go on to abuse children, it is important that when concerns are raised, by colleagues or parents, they are picked up on," he said.
Serious issues
"If those concerns had been picked up on, it is possible he would not have felt it was so easy to get away with other more serious behaviour."
Mr Dunning told BBC Scotland that the review report raised serious issues for all agencies involved in the care of children.
"The lessons that we should all learn are that we need to be alert to the possibility that some perpetrators may build up a career over several years in order to gain access to children.
"Even though they may not get unsupervised access to children in their workplace, they may befriend parents in order to gain such access.
"So, what we have to do is make our recruitment processes as robust as we can and make sure services and parents are alert to those dangers."
Jim Gilhooly, South Lanarkshire Council's executive director of education, said the lessons from the review needed to be learned "not just locally but nationally".
"We have already moved to address the issues raised in the review's recommendations and I am sure other agencies will do the same," he said.
"The warning about the way Mortimer 'groomed' parents is something we all need to be particularly aware of so that, as agencies and parents, we can do everything possible to guard against such predators."