Scottish Borders Council leader David Parker quits Cosla role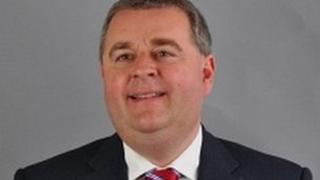 Scottish Borders Council's David Parker has resigned as the head of local government organisation Cosla's group of independent council leaders.
He claimed decisions on financial allocations left him with no choice.
Mr Parker said he would continue to fight from within the umbrella group for the best deal for his council.
However, he said it was "only right" that he step down from his post in order to serve the best interests of the Scottish Borders authority.
He said his decision centred on Cosla's preference for a "flat cash settlement" which would see Scottish government funding in 2015/16 distributed on the same basis as the previous year.
The other option would be to feed in other factors, based on latest figures for populations and deprivation, to adjust the allocations.
Mr Parker said: "As leader of the independent group, I find myself in the unique position that the majority of councils in my group would benefit from a flat cash settlement.
"However, a flat cash settlement would be bad for local government and it would be bad for SBC.
"So that I can effectively stand up for the interests of this council it is only right that I should step down at this time so I can argue very strongly for our council to make sure that we don't get a flat cash settlement and that we get distribution re-run."