Greenock Cemetery rapist Paul Sinclair jailed for five years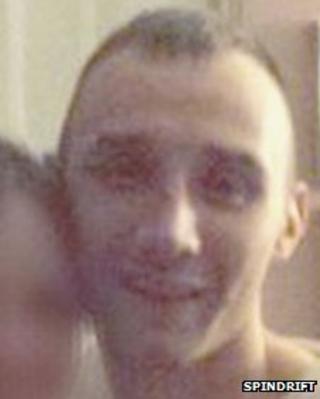 A man who raped a female friend at a graveyard in Inverclyde has been jailed for five years.
Paul Sinclair, 24, claimed he had consensual sex with the woman, who cannot be named for legal reasons, at Greenock Cemetery on 17 September 2013.
But he was convicted of rape after a jury heard how he sent the 30-year-old a text saying: "I'm going to rape you."
At the High Court in Glasgow, Sinclair was also placed on the sex offenders register indefinitely.
During his trial, he claimed that the rape threat text was a joke and he had also been sending "flirty messages" to the woman.
In evidence his victim said she told Sinclair: "We can't be anything more than friends. I'm happy with my family and my life".
Just friends
The woman told the court that she thought Sinclair was a friend because she could confide in him about her mother's death.
She told the jury she "felt safe" when she was in his car, even when Sinclair drove to a secluded spot at Greenock Cemetery.
After parking, Sinclair reclined her passenger seat and raped the woman.
The jury heard that all the time she kept saying "no, stop" but he paid no attention.
Afterwards, when she left the car distressed, Sinclair asked what the matter was and she replied: "Do you need to ask after what you have done."
Later, she broke down and told her partner what had happened and police were called.
Other offences
In evidence, Sinclair denied the attack and claimed they had consensual sex and even cuddled afterwards.
The jury were told that she was "all over him like a rash" and that when he later heard the rape allegation he was "blown right out the water".
After the guilty verdict, it was revealed that this was not the first sexual crime Sinclair had been convicted of.
He also has a previous conviction for having sex with a girl between the age of 12 and 16 and another conviction for assault to injury.