Mull project is part of a new wave of hydro power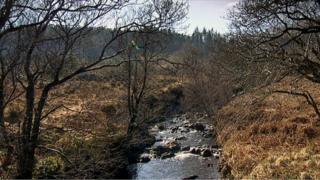 Think of hydro power in Scotland and the chances are your mind will turn to Ben Cruachan, the so-called "hollow mountain", in Argyll.
The Cruachan hydro-electric scheme has been quietly and reliably helping to keep our lights on since the 1960s.
In February, Cruachan found itself back in the headlines, after Scottish Power announced it was drawing up plans which could lead to its output being more than doubled.
The news was hailed as a "new dawn" for hydro power in the Highlands.
But across Scotland, communities and landowners are developing their own hydro schemes, albeit on a much smaller scale.
The Garmony Hydro project is one of them and so I find myself driving past Cruachan, along the shores of Loch Awe towards Oban and the CalMac ferry to Mull.
Tumbling burn
The next morning, I'm bumping my way up a forestry track on a hillside above the ferry terminal at Craignure, about to get my first glimpse of the site of the island's new hydro scheme.
There is a burn here, tumbling down the hillside in the spring sunshine. Harnessing the power of the water will allow islanders to generate green electricity and much-needed funds for community projects.
Construction work hasn't yet begun, but project manager Richard Thorne is on hand with the blueprints for the project.
Richard explains it will be a 400kW scheme, costing up to £1.3m and producing enough electricity to meet the needs of about 300 homes.
The project is only possible because of the innovative funding model being used.
The money needed to pay for construction will come from a combination of borrowing and a community share offer.
Island investors
Richard tells me: "Investors will have a return rate of around 4% per year, so their money will earn a better rate than if it was sitting in a bank or building society.
"Most of the investors, around 60%, have come from the island itself. But the bulk of the investment has come from those who either have connections to the island or from the ethical investment community."
The scheme is expected to generate revenues of around £200,000 per year. The money will come from the sale of electricity to the grid and Feed-in Tariff payments, a financial incentive designed to encourage investment in renewable energy projects.
In the first 15 years, repaying construction costs will account for most of those revenues but the remaining profits will go to a "Waterfall Fund", which will award funds to community projects on Mull and the neighbouring island of Iona.
The sale of shares has already attracted investment of around £400,000. Selling more shares will mean a smaller sum will have to be borrowed and that, in turn, will reduce debt repayments and increase the cash available to be spent in the community.
At the offices of the Mull and Iona Community Trust, the general manager, Moray Finch, explains why those funds will be vital to the island's future.
Young families
He says: "Mull, on the face of it, is very prosperous. It's a beautiful place to visit on holiday or retire.
"But what is really important for the future of the island is that we're able to retain young people and young families.
"A lot of the projects we're hoping to fund will also address concerns about social isolation and social exclusion."
It may sound like a win-win situation for the islanders of Mull and Iona, but developing community hydro schemes is far from easy and experts say it looks set to become harder still.
Nicholas Gubbins of Community Energy Scotland says: "There are plenty of obstacles. It's not an easy job. The biggest issue is the Feed-in Tariff (FiT)), which is likely to reduce over the coming years and that will create a serious problem for small-scale hydro.
"In fact, many believe it will mean an end to the opportunity to develop small-scale hydro schemes."
Community benefit
Joss Blamire, Senior Policy Manager at Scottish Renewables, shares those concerns.
He says: "It's great that communities in Scotland are still benefitting from hydro today, as they have done for more than 70 years.
"The development of schemes like the one on Mull show how industry and communities can work together to develop this clean, sustainable technology and help create an economic and environmentally-sound future for many parts of Scotland.
"The continued development of this resource, however, is uncertain due to planned reductions in support offered by the Feed-in Tariff scheme.
"We need the UK Government to listen to calls from the hydro industry and make changes to the FiT scheme to ensure that only projects which are built and operating count towards calculations to reduce future tariffs."
Back on Mull, the sun is still shining. Construction work is set to begin later this year. This week's warm spring weather may have been an unexpected bonus for visitors like me.
But in future, it will be wet summers which will help islanders generate the most cash.
Every cloud has a silver lining.