Domestic abuse support fund gets £12m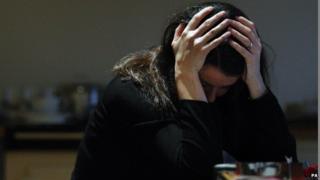 A new £12m lottery fund has awarded cash to 24 domestic abuse support groups across Scotland.
The Becoming a Survivor programme aims to give greater access to support services for women, men, and families who have lived through domestic abuse.
Police recorded 60,080 incidents of domestic abuse in 2012-13, up from 59,847 in the previous year.
NHS Lanarkshire is being awarded £701,030 by the Big Lottery Fund for its domestic abuse response project.
It aims to help victims feel safer, to secure a home and get access to specialist emotional and practical support.
Ann Hayne, gender-based violence manager at NHS Lanarkshire, said she was "absolutely delighted" with the support of the Big Lottery Fund.
Other awards include Stirling Citizens Advice Bureau, which will receive £460,669 to allow it to work with Women's Aid and others to run a domestic abuse transitions advice project.
And support group Abused Men in Scotland (AMIS) which will receive £419,283 to help expand its services, which include a national helpline.
More than £1m of the funding goes to two "very different" projects in the south of Scotland.
Scottish Borders Council gets nearly £600,000 for STEPS, a new five-year project to address housing and emotional needs of those affected by domestic abuse and their families.
Meanwhile, in Dumfries and Galloway, a grant of a little less than £500,000 will fund three new refuge worker posts with Wigtownshire Women's Aid.
Jackie Killeen, Scotland director for the Big Lottery Fund, said the £12m of grants being awarded would "help to build support around the needs of some of Scotland's most vulnerable and hidden people".
She added: "The latest Police Scotland figures indicate the number of reported domestic abuse incidents in Scotland have risen over the last year, so we know that this is an area where our funding is desperately needed."