Service in Glasgow remembers Cheapside Street fire disaster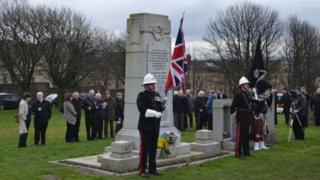 A memorial service has been held at Glasgow Necropolis to mark the 54th anniversary of a whisky bond blaze in the city which killed 19 firefighters.
The Cheapside Street fire, on 28 March 1960, was the worst peacetime tragedy to affect the British fire service.
The men died after an explosion caused the bond's 20m high (60ft) walls to crash onto the street below.
The fatalities included 14 firemen from the Glasgow Fire Service and five members of the Glasgow Salvage Corps.
Officers from the Scottish Fire and Rescue Service attended the first memorial to be held since the national service was formed last year.
Chief Officer Alasdair Hay said: "The Cheapside Street disaster is a pivotal moment in the history of this city and the fire and rescue service.
"The scale of the explosion and ferocity of the fire posed a massive threat to neighbouring buildings, and the firefighters' efforts that night undoubtedly prevented the blaze from spreading to other sites."
'Ultimate price'
He added: "We can never forget those who paid the ultimate price to protect the public, or the loved ones whose lives were changed forever by a devastating and tragic loss."
The explosion at Cheapside Street took place in a building holding almost 4.5 million litres of whisky and more than 140,000 litres of rum.
Falling masonry instantly killed three firemen in Cheapside Street as well as 11 firemen and five salvagemen who were battling the blaze from the rear of the building in Warrach Street.
Crews fought the resulting fire for 11 hours until it was finally brought under control shortly before 06:20 the next day.