South Lanarkshire 'Owenstown' new town plan rejected by councillors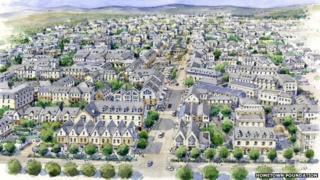 Plans for an eco-friendly new town in South Lanarkshire have been rejected by councillors.
Developers wanted to build the town - called Owenstown - near New Lanark, based on co-operative principles.
They said the £500m project would create more than 3,000 homes and up to 10,000 jobs.
Councillors unanimously accepted advice from planning officials who said the site was unsuitable.
The Owenstown project would have covered 400 acres of a 2000 acre site near Rigside in the Douglas Valley.
Developers, the Hometown Foundation, said the principle of Owenstown was based on social reformer Robert Owen's ideas at nearby New Lanark 200 years ago.
They said the town would be owned and managed on a co-operative basis by its residents and all surplus funds generated would be reinvested in the community.
They planned a low carbon community with high energy efficiency, making use of renewable energy.
But South Lanarkshire Council was told the development was contrary to planning policy at national, strategic and local level.
It was rejected on a number of grounds:
The scale of the development was not required
Impact on key road junctions around Lanark
Limited public transport serving the site
Adverse impact on the landscape including the Tinto hills
Diversion of resources from existing settlements in Lanark, Rigside and Coalburn
Objections from statutory bodies including the Forestry Commission and Scottish Natural Heritage
Michael McGlynn, head of planning and building standards, said: "It would fail to meet the over-arching objective of policy at all of those levels of encouraging sustainable economic growth and regeneration within an improved urban and rural environment.
"The applicants have also failed to show that there is demand for the form and scale of development proposed at this location or provide any evidence that there is sufficient interest and demand to fulfil their aspirations."
The scheme was first announced nearly five years ago and the application for planning permission in principle was submitted in November 2012.
The developers have previously said there was a groundswell of support for the project which would bring many social and economic benefits.
They said that as well as homes, Owenstown would include office and commercial space, cafes, restaurants and shops, land and buildings for industry, as well as two new primary schools and one new secondary school.
The Hometown Foundation now has the option of appealing to Scottish ministers. If that is also unsuccessful, they have said they may try to find another site in England, Wales or Ireland.