New A77 Bogend Toll bridge open to traffic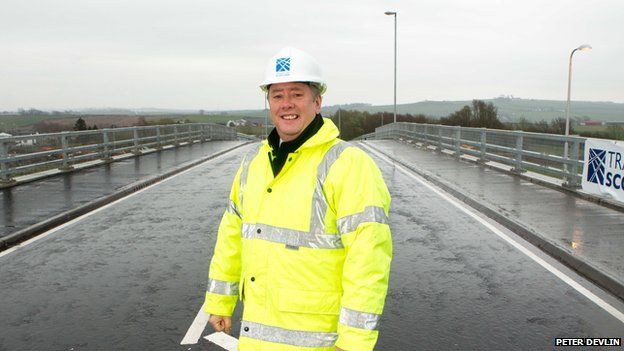 A new bridge at the A77 has been opened to traffic by Transport Minister Keith Brown.
The Bogend Toll Bridge will improve access at the junction by providing road users with safer access to and from the A77.
The bridge is one of several improvements made to the route as part of a £10.6m overhaul.
Road diversions will remain in place until the end of April when the improvements are set to be completed.
Other changes that form part of the scheme include improvements to junctions, new cycle routes and the creation of a new link road at Whitelees.
Mr Brown said: "The A77 is one of Scotland's key routes and the works here on the £10.6m Symington and Bogend Toll Improvements scheme forms part of some £36.7m to upgrade the A77 and A75 and improve access to our key ports.
"The new Bogend Toll and Symington bridges will allow road users to join and leave the A77 without having to cut across oncoming traffic, making the A77 much safer."
He added: "I look forward to seeing the full programme of works completed very soon, and am sure people across the region will welcome the newest addition to Scotland's major road network."
Traffic management measures, including lane closures, will remain in place and are expected to be removed towards the end of April.
Related Internet Links
The BBC is not responsible for the content of external sites.