Elaine Doyle: Parents unaware daughter lay dead nearby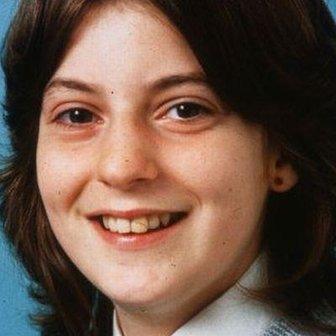 The Elaine Doyle murder trial has heard that the teenager's parents were spoken to by police unaware that her body was lying yards away from the family home.
Ex-policeman William Carmichael told the High Court in Edinburgh he called at the Doyle household after a body was found in a local lane in June 1986.
He suspected it was Elaine after her parents said she had not returned from a night out and described her clothing.
John Docherty, 49, denies killing 16-year-old Elaine in Greenock.
The court has already heard how the naked body of the teenager was found in a lane in Greenock on 2 June 1986.
A distinctive black and white dress or skirt lay beside her.
A post-mortem examination later concluded that she had been strangled.
Mr Carmichael, 86, told the court he had been one of the first police officers on the scene after Elaine's body was found.
At the time he was a uniformed constable with about 22 years service, all of it in the Greenock area.
He was on mobile patrol when he was sent to the lane, near an Air Training Corps (ATC) hut in Ardgowan Street, where he saw the body at about 08:30.
Mr Carmichael said he was asked to begin door-to-door inquiries and called at the Doyle family home in Ardgowan Street, the first tenement past the ATC hut.
He told advocate depute John Scullion, prosecuting, that Mr and Mrs Doyle said their daughter had not returned home and they gave him a description of what she had been wearing.
The witness said: "I suspected that, unfortunately the missing person could also be the deceased in the lane."
He said he returned to the lane to tell a senior officer.
The trial has also heard of some confusion surrounding the events of that day.
Mr Carmichael agreed that his statement made no mention of him seeing the body and a log kept by a colleague did not record his arrival until 10:39.
Defence QC Donald Findlay suggested this was the start of "a botched investigation".
Mr Docherty, 49, from Dunoon, has denied killing the teenager more than 27 years ago.
He claims that at the time Elaine Doyle was killed, he was at home with his parents, who are no longer alive.
Mr Docherty also denies stealing a handbag from Ardgowan Street on the same date.
He further denies a charge of attacking another woman, Linda Hargie, on various occasions between 1990 and 1995 at an address in Anne Street, Greenock, by seizing her and pushing her and punching her on the head.
Mr Docherty has lodged a special defence of incrimination, suggesting that Elaine Doyle's killer might be found among a list of 41 names taken from files of the police investigation.
Related Internet Links
The BBC is not responsible for the content of external sites.