Drugs mule Melissa Reid may return to Scottish prison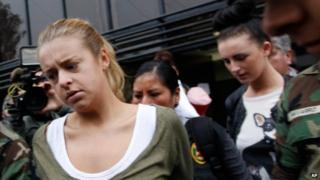 The Scottish Prison Service has said it is considering an application from drugs mule Melissa Reid to serve her sentence in Scotland.
The 20-year-old, from Lenzie, was convicted along with Michaella McCollum, 20, from County Tyrone of smuggling cocaine out of Peru.
They were jailed for eight years each, but the sentences were reduced because of their guilty pleas.
They are expected to remain in prison until 5 April 2020.
A formal application for repatriation has been made by the authorities in Peru to the Scottish Prison Service.
Ms Reid's father has met Justice Secretary Kenny MacAskill to discuss her case.
Private meeting
A Scottish government spokesman said: "The Justice Secretary had a private meeting with Mr Reid.
"Prisoner transfers are a matter for the Scottish Prison Service.
"The Foreign and Commonwealth Office has responsibility for UK citizens imprisoned abroad. We have been in touch with them regarding Melissa Reid and have asked to be kept informed of developments."
The women had reportedly told the Peruvian authorities they were working in Ibiza and did not meet before they were both kidnapped at gunpoint and forced to travel to Majorca.
They claimed they were then sent to Peru and forced to carry the drugs in their luggage.
But after they admitted the offences in September 2013, their sentencing was delayed because prosecutors were not satisfied with the details of their confessions.