Clutha crash: AAIB issues update on investigation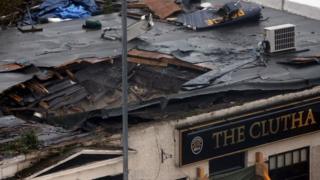 Investigators have still to identify why a police helicopter which crashed on a Glasgow pub killing 10 people suffered double engine failure.
The Air Accident Investigation Branch (AAIB) said it was still trying to determine why both engines "flamed out" when sufficient fuel was available.
It is also still trying to establish why there was no emergency radio transmission or controlled descent.
The Eurocopter EC 135 came down on the Clutha Bar on Friday 29 November.
All three people on board and seven others in the pub were killed.
The AAIB's latest report concludes: "The AAIB investigation continues to examine all the operational aspects of this accident and to conduct a detailed engineering investigation.
Previous reports
"In particular, the investigation will seek to determine why a situation arose that led to both the helicopter's engine's flaming out when 76kg of fuel remained in the fuel tank group, why no emergency radio transmission was received from the pilot and why, following the double engine failure, an autorotative descent and flare recovery was not achieved.
"The AAIB will report any significant developments as the investigation progresses."
The AAIB has issued two previous updates on its investigation into the crash.
An initial report on the crash, which was released on 9 December, said there was "no evidence" of major engine or gearbox failure.
In their second report on 14 February investigators said they were still trying to establish why both engines "flamed out" when there was 76kg of fuel remaining.
They said the aircraft's engines showed "no evidence of foreign object damage or intake or exhaust blockage in either engine".
The second report also found no faults with the transmission or rotor system, no evidence of structural failure or in-flight fire and no evidence of damage caused by bird strike or a foreign object hitting the aircraft in flight.
An examination of the fuel pump switches at the accident site showed that the No 1 and No 2 prime pump switches were set to the 'on' position but the fore and aft transfer pump switches were set to the 'off' position.
No CCTV recordings had been obtained which captured the end of the flight and the recorded radio transmissions did not contain any reference by the crew to difficulties with the aircraft.