Life term for 'monstrous' rapist Jonathon Mallon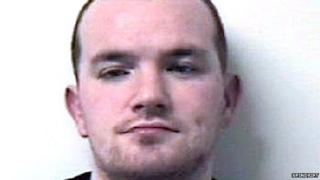 A "monstrous" sex attacker who raped five women and sexually abused a sixth was given a lifelong restriction term.
Jonathon Mallon, 32, was found guilty of abusing the vulnerable women in Glasgow, Renfrewshire, Greenock and Ayr between December 1999 and March 2013.
Judge Bill Dunlop QC told him he must spend at least 10 years behind bars before being able to apply for parole.
He added: "You may never be released and the prospects are you will be in custody for a very long time indeed."
The lifelong restriction order means that the parole board can only release an offender back into the public once they have detailed information that they pose no serious threat to committing more serious crime.
Ruthlessly exploited
Mallon was convicted at the High Court in Glasgow of carrying out a campaign of terror against the women over a 14-year period.
He raped one of his victims in a cinema toilet and another in a changing cubicle at a busy swimming pool.
Judge Dunlop told Mallon: "This was a course of conduct that can only be described as monstrous.
"These offences were carried out against six women, each of whom was vulnerable in one way or another.
"It's clear that you saw women who were vulnerable and ruthlessly exploited them for your own sexual gratification.
"The evidence spoke of you meeting them, and at first you charmed them, then very quickly became controlling."
Judge Dunlop said Mallon's victims had been left "devastated" by what he did to them.
He added: "The distress of your victims at the time must have become obvious to you and you simply ignored that."
Churchgoer
Prosecutor Kath Harper told the court that Mallon has previous convictions for domestic abuse, violence, carrying a knife and fire raising.
Mallon, a keen churchgoer, met two of his victims at church, another he chatted up on a bus and the others he met at parties.
Mallon was described by one of his former girlfriends, who is 26, as a Jekyll and Hyde character.
He was charming and kind until he got each women under his spell and then his nasty side would come out.
One woman told the court how Mallon raped her in a cubicle at Scotstoun Swimming Baths while families with young children were nearby.
Another victim was raped in the gent's toilets at the Odeon cinema in Renfield Street in Glasgow.
Defence QC Frances McMenamin said that Mallon had suffered a horrific childhood and had been the victim of violence himself.