Police Scotland donates fake designer clothes to charity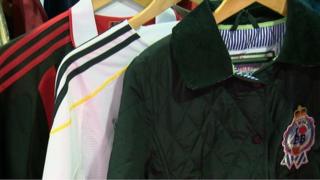 Police are to donate more than £300,000 of counterfeit designer clothing to charity.
The fakes, which include counterfeit Ugg boots, Armani t-shirts, Adidas trainers and Prada tracksuits, were all seized by officers during raids at the Barras market in Glasgow.
They are to be handed over to the Glasgow the Caring City charity by Police Scotland.
The clothing will then be shipped abroad to people in need.
Ch Insp David Pettigrew, local area commander at the London Road Police Office in Glasgow, said the £315,000 worth of fake goods had all been confiscated from the market between 2009 and 2010.
He added: "Rather than destroying the clothing, we thought it would make more sense that a local charity benefit from the donation.
"For us this is a win, win situation. We take them from the criminals and give to people in need.
"We have the consent and support of the brands to make the donation, for which we are very grateful."
He added: "We will continue to disrupt and pursue those who deal in counterfeit goods and would say to people that while the goods may look good and are cheap, your money is going directly to fund organised crime and has a significant impact on honest traders and the communities in which we all live."
Glasgow the Caring City chief executive Rev Neil Galbraith described the police donation as "remarkable".
He said: "It will allow us to continue to support our overseas work, while at the same time allow us to divert much needed assistance and caring to the people of the West of Scotland through the resources being saved and the costs involved.
"It is important to note that we are Glasgow's aid charity and carry the name of our city with great pride. In this Commonwealth Games year, when the world comes to Glasgow, its important to let it be known that the generosity of Glasgow will always be shown to a world in need."