'Progress' at NHS Lanarkshire after damning report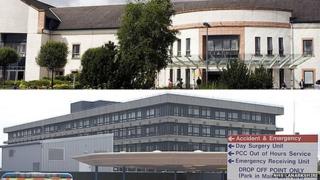 A health board whose patient care was slated after a probe into above-average mortality rates has made improvements, the Scottish government has said.
Health Secretary Alex Neil said NHS Lanarkshire had made "positive changes" in patient safety and quality of care.
However, he said further improvements were needed in management, especially in its scrutiny of care issues.
Last year, the health board was told to make 21 improvements covering Wishaw, Monklands and Hairmyres Hospitals.
The problems came to light after unusually high death rates were found at Monklands Hospital over a period leading up to last summer.
Further investigation by health inspectors found no definitive reasons for the above-average mortality rates.
'Significant changes'
It did, however, uncover many other problems with understaffing, quality of care, patient record-keeping and management culture all coming in for criticism.
In the wake of the report, a government-appointed team was charged with making rapid improvements at NHS Lanarkshire.
Speaking at the Scottish Parliament's health and sport committee, Mr Neil said there was evidence that progress was being made.
"It is clear that staff at NHS Lanarkshire at all levels have put in a significant amount of commitment and energy into making changes, and it is essential that this momentum and leadership focus is maintained moving forward," he said.
"I am pleased that the focus on patient safety and quality of care has increased significantly in recent months, and I am reassured that this focus will continue."
'Record staffing'
Mr Neil said the creation of a dedicated patient safety team was "helping to embed patient safety throughout the organisation".
He also said the health board was now at "record staffing levels" and had recruited more permanent nurses and invested an extra £3.1m in acute nursing services.
The health secretary said problems still remained within the health board.
He said: "There are still some areas where the initial work done needs further development and bedding in, particularly around simplifying governance structures, in providing support to the new acute management team, and ensuring that board members can appropriately challenge and scrutinise the quality and safety of care.
"I have made it clear to NHS Lanarkshire that I expect to see further progress in these areas, and the Governance and Improvement Support Team will continue to offer support to help the health board make this progress."