Glasgow 2014: Traffic clampdown for Commonwealth Games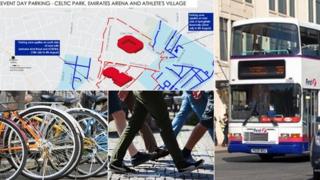 Major restrictions on traffic and parking are to be introduced in Glasgow during the summer Commonwealth Games.
Organiser Glasgow 2014 has released details of the traffic plan designed to protect local people and businesses and help athletes move around.
A series of maps has been produced showing how restrictions apply at venues around the city.
Spectators are being encouraged to walk, cycle and use public transport to minimise disruption.
George Vincent, project management and design manager, said: "Glasgow will be open for business throughout the Games, but it won't be business as usual.
"Now is the right time to plan ahead and find out how you might be affected.
"If you live or work near a venue, we are putting in place measures to keep your community moving and help make sure you can enjoy being at the very heart of Glasgow's biggest ever celebration."
'Games Lane'
Mr Vincent said a series of meetings were being held with local businesses to make them aware of temporary arrangements.
Similar meetings, he said, would also be held next month with local people around Games venues.
Earlier this month, Glasgow 2014 outlined some of the major traffic management arrangements.
These included a designated "Games Lane" that would result in lane closures from the Athletes Village and venues in the east of the city, through to the SECC.
The slip road from the Kingston Bridge down to the Clydeside Expressway will be also closed.
The latest details to emerge show parking restrictions are likely to be in place within 10 minutes' walk of a venue.
In some cases, restrictions and diversions may also be in place within 20 minutes' walk.
John Fryer, Glasgow 2014 transport manager, said: "The success of the Games doesn't start and end inside the Games venues - we want to make sure that everyone attending the Games is able to get around the city quickly, safely and easily.
"We are encouraging spectators to walk, cycle, use public transport or use a park-and-ride site to get to venues.
"The measures in the traffic management and parking plans are integral to making this as easy as possible for spectators."
Stuart Patrick, chief executive of Glasgow Chamber of Commerce, added: "It's good that information is being supplied as early as possible, allowing businesses to start to plan their operations during the 11 days of the Games.
"We urge all businesses to really think about their plans and to make full use of the suite of tools available on the getreadyglasgow.com website."