Albanian 'killer' found in Glasgow loses extradition fight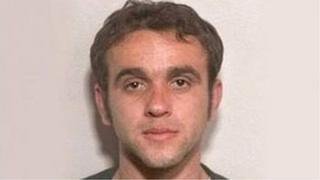 A convicted killer from Albania who was arrested while working in a chip shop in Glasgow has lost a lengthy legal bid to avoid extradition to his homeland.
Fatjon Kapri, 34, went on the run after being sentenced in his absence to 22 years for murdering fellow Albanian, Ylli Pepa, in London in 2001.
Albanian law allows for nationals to be prosecuted for crimes committed abroad.
Appeal judges in Scotland ruled Kapri could be extradited after dismissing claims any retrial would be unfair.
Kapri was alleged to have stabbed Mr Pepa after both men became involved in a fight.
New identity
Kapri went on the run after his conviction and was featured on an Interpol wanted listed before being traced to Glasgow in 2010.
He was found to be living under a false Macedonian identity, working in a chip shop in the city centre.
Kapri began a fight against extradition after the Albanian authorities requested he be returned.
His lawyers argued that corruption was a long-standing and persistent problem in the country's legal system and that a potential violation of his rights to a fair trial under Article 6 of the European Convention on Human Rights should prevent him being sent back.
But judges at the Court of Criminal Appeal in Edinburgh rejected his legal challenge and opened up the way for his return to Albania, where he faces a re-trial before three judges.
A hearing on evidence about the legal system in Albania went ahead before the Lord Justice Clerk, Lord Carloway, sitting with Lady Dorrian and Lord Bracadale.
Lord Carloway said: "The court heard no evidence whatsoever that an ordinary murder trial, or indeed an ordinary criminal trial of any serious offence, would be affected by judicial corruption.
"If corruption exists to a substantial degree in the criminal justice system, it is relative to the prosecutions of influential political figures, organised criminals or their respective friends or families," he said.
Lord Carloway said there would be careful scrutiny by the justice inspectorate and the media.
The judge said: "There would be effectively no prospect of the appellant's trial being compromised when the spotlight of the inspectorate and the media was upon it."