Elaine Doyle murder: Witness unaware he was named as killer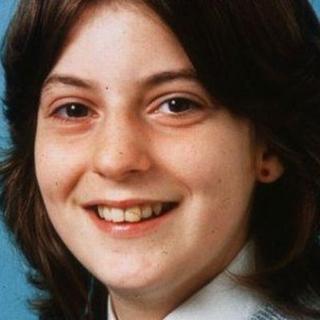 A witness has told the Elaine Doyle murder trial he was unaware he had been blamed by another man for killing the 16-year-old girl in Greenock.
Bryan Wilkins, 45, said he did not know that another witness, Colin McIntyre, told police in 1986 Elaine had been strangled by someone called "Wilks".
He said he had never been known as "Wilks" and was not close friends with either Elaine or Mr McIntyre.
Another man, John Docherty, 49, denies killing Elaine in Greenock in 1986.
He claims the killer may be one of 41 other men named by his defence team. The list includes the names of Mr Wilkins and Mr McIntyre.
On Thursday, the trial at the High Court in Edinburgh heard of a disputed "confession" made more than 27 years ago by 44-year-old Mr McIntyre.
Wilks allegation
The statement told how Elaine fell to the ground during a struggle as four youths gathered round her.
The account continued: "Wilks then picked up a piece of string and put it round her neck.
"She was face up. He put his knee over her and started pulling the string. He must have pulled it too tightly."
Mr McIntyre was aged 16 when he gave the statement but giving evidence in court he claimed he had been bullied by police.
On Friday, Mr Wilkins, who lived in Greenock in 1986, returned to Scotland from his home in Hebden Bridge, West Yorkshire, to give evidence at the trial.
Mr Wilkins said he knew his name was on a list of 41 people the defence has claimed could be responsible for the murder.
But he said he had never previously been confronted with the allegation that he had strangled Elaine.
Mr Wilkins said he was "on nodding terms" with Elaine and had been questioned by police after her death.
Asked if he told them the truth about his movements on the night she died, Mr Wilkins replied: "Absolutely, yes."
Defence QC Donald Findlay told Mr Wilkins he was named in the police inquiry not just as someone involved, or someone who was present. "You were named as the killer of Elaine Doyle," he said.
Mr Wilkins told the lawyer: "I was not aware of that."
Wrong nickname
He told the trial that in 1986 when he was either a trainee plumber or joiner his nick-name was "Vulch" - short for "Vulture."
He added: "I have never been known as Wilks."
He said he could think of no reason why Mr McIntyre should tell police he was the killer and could think of no reason why police should want to blame him.
Mr McIntyre was someone he would meet at a local pool hall or an arcade in Argyll Street, but not a close friend.
Mr Wilkins said he did not hang around with the other youths named as being present when Elaine died.
"A horrendous allegation," suggested Mr Findlay. "Absolutely," agreed Mr Wilkins.
Mr Docherty, now of Dunoon, denies murder and claims that at the time he is alleged to have stripped and strangled Elaine he was with his parents - who are no longer alive - at their home in Anne Street.
The charge alleges that on 2 June 1986 in a lane near Elaine Doyle's home in Ardgowan Street, Greenock, he seized her by the hair, struck her on the head and either removed or compelled her to remove her clothing.
The charge goes on to allege that Mr Docherty forced Elaine to the ground, pushed her face into the ground, sat or knelt on the teenager then placed a ligature round her neck and strangled her.
Mr Docherty also denies stealing a handbag from Ardgowan Street on the same date.
He further denies a charge of attacking another woman, Linda Hargie, on various occasions between 1990 and 1995 at an address in Anne Street, Greenock, by seizing her and pushing her and punching her on the head.
The trial continues.