Glasgow 2014 deputy chief executive Ty Speer to leave post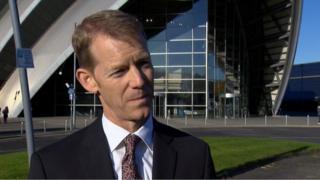 The deputy chief executive of Glasgow 2014 is to leave his post just three months before the Games begin.
Ty Speer will leave the Commonwealth Games organising committee next week to pursue a new role overseas.
Mr Speer, a US national, joined the committee in November 2012 to lead the Games' commercial programme, including ticketing.
Glasgow 2014 said it would not be appointing a replacement for Mr Speer.
Mr Speer said it had been a "real privilege" to have been part of Glasgow 2014, which he predicted would "deliver an outstanding Commonwealth Games".
He added: "It's clear from the commitment shown both from businesses and the public that Glasgow 2014 is generating real excitement and creating fantastic opportunities around showcasing world-class sport from Glasgow and Scotland on the global stage.
"I'm delighted to have led a commercial programme which has exceeded £100m in revenues, which is a real vote of confidence in the ability of the city and Scotland to put on a great Games."
Glasgow 2014 chief executive David Grevemberg said Mr Speer's knowledge and experience had been great assets to the organising committee.
Mr Grevemberg said: "Glasgow 2014 will be a world-class sporting and cultural celebration and it's our ambition to make them the greatest Games the Commonwealth has ever staged.
"I thank Ty for his contribution to the Organising Committee and, on behalf of the winning Glasgow 2014 team, wish him every success for the future."