Programme announced for Glasgow's West End Festival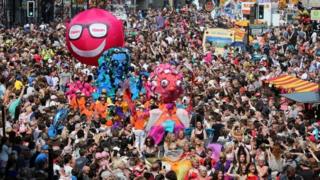 Organisers of Glasgow's West End Festival have unveiled an extended programme for this year event.
More than 400 events at some 80 venues will take place during the 19th annual festival, which runs from 1-29 June.
The traditional highlight - the Mardi Gras-style parade along Byres Road - is expected to attract tens of thousands of people on Sunday 8 June.
The festival will begin with the Gibson Street Gala, which last year attracted 5,000 people.
Liz Scobie, chair of the West End Festival board, said she was looking forward to the Byres Road parade.
'Unforgettable summer'
"It just takes some music and dance, some street food and a little bit of sunshine to make Parade Day one of the happiest days of the year," she said.
"The atmosphere is always relaxed and good natured as the whole community spills out onto Byres Road meeting friends, filling the parks and playing with their children.
"This year is extra special because of the Commonwealth Games and the Mardi Gras Parade Day Party provides the perfect start to an unforgettable summer."
The festival also features the Cottier Chamber Project, running from 6-20 June, which includes literature, theatre and visual art.
A new project has also been added to the bill this year - The Cottier Dance Project. This is Glasgow's only professional dance festival and runs from 23-27 June.